This Is The 40,000 Sq.Ft. Palace Justin Thomas And Pals Stayed During The Valspar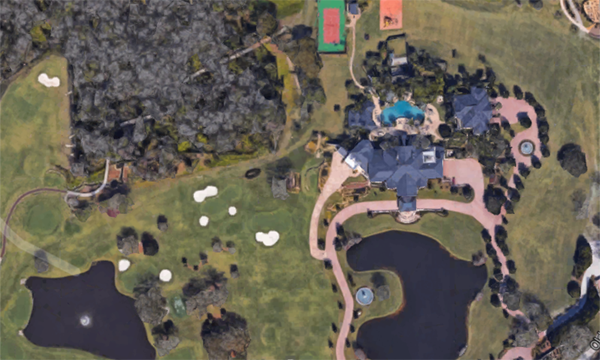 Yup, that's a private par-3 course on the property.
Pro golfers spend a decent portion of their expenses renting some fairly lavish cribs when playing Tour events. A perfect example is the crib Justin Thomas, Daniel Berger, Harold Varner III, Patrick Rodgers and Bud Cauley crashed at during the recent Valspar Championship. Golfweek.com has the details.
The massive home is owned by billionaire Todd Wagner, who co-owns 2929 Entertainment along with Dallas Mavericks owner Mark Cuban. It used to be the home of former NBA player Matt Geiger, back when it was just more than 20,000 square feet. (Fun fact: scenes from the 2003 movie "The Punisher" were filmed there.)
According to the Tampa Bay Times, Wagner bought the property in 2011 and then purchased about $1.5 million in renovations, including a one-mile, $400,000 privacy wall surrounding the complex.
This is the second year in a row that Wagner has opened up his house to the Tour players.
"Best place I've stayed in, ever," Varner said. "And I've stayed in some houses."
The place, which is about 15 minutes from Innisbrook Resort in Tarpon Springs, includes more bedrooms and bathrooms than one can count on two hands. It also has all the normal amenities: you know, elevators, movie theater, bowling alley, poker room, golf simulator, game room, shark tank, wine cellar and tasting room, cigar room, massage and tanning rooms, and a museum with cars and other collectables, among other things.
Oh, and a pizza room – because of course!