Why Bloomberg Believes The Recent ClubCorp Sale Is Good For Golf Biz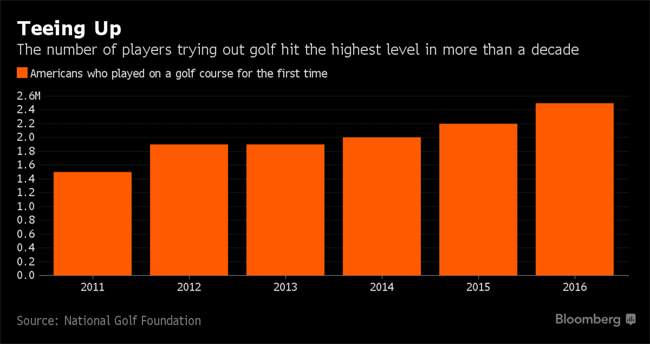 The popular business site Bloomberg offers up why the recent ClubCorp sale to Apollo Global Management and TopGolf popularity are positive signs for our industry that takes its share of hits from naysayers.
The push helped bring 2.5 million new participants to the game last year, the most in more than a decade.
"Golf is in a good place and getting stronger," David Abeles, chief executive officer of golf-equipment maker TaylorMade, said in an interview. "We're optimistic that participation rates will continue to grow as we move forward."
The central thesis of that deal: Golf's core players remain quite loyal to the sport — and their country-club fees will spin off cash for years to come. ClubCorp, based in Dallas, has more than 430,000 members.
More broadly, golf has seen a resurgence in so-called avid players, those who play at least 25 rounds on a regulation course per year. The number rose to 8.8 million last year, up 400,000 from 2015, according to the National Golf Foundation. Avid players are critical to the health of the sport because they account for 80 percent of industry spending.