Caddie Confidential: What Loopers Think About Erin Hills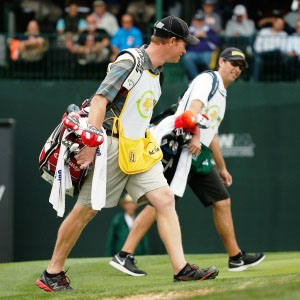 I enjoy ESPN's Michael Collins' Caddie Confidential reports as much as GolfDigest.com's Undercover Pro. There's nothing like answering questions anonymously to get the inside skinny. Collins' latest involves the challenges of Erin Hills and housing this week.
Collins: What was it about the course that gave you "pause" when you first saw it?
Caddie: I just wasn't sure what we were gonna get. Seeing the knee-high fescue and how thick it was. But then you look at (the course) and the fairways are plenty wide, almost double the size of a normal U.S. Open fairway, which I think is very fair.
Collins: What was it like trying to find housing for this week?
Caddie: This one was hard. We're staying at a rental house. I didn't book it, so I don't know who we booked it through. But this one was a little bit tougher because of the location, out in the middle of nowhere. It's not in a city center or in an area with a ton of neighborhoods. … This one, I think, is a minimum 15-20 [minute] drive for anyone. It's tough.
Collins: Is the USGA good to the caddies as far as parking and facilities?
Caddies: It's been really good. The parking's good, it's a short walk. The USGA does a pretty good job. They have the wellness center for us where we [get] chiropractic work, or massage work, or just basic physical therapy because our bodies break down, too, carrying that bag. Probably more so than a players' does. This is the one tournament a year where we get treated like, "Hey, you guys are important, too. … We need to make sure you're taken care of." They do such a good job at doing that every year.
Collins: This is not just the toughest test for players, this is the toughest test for caddies, too. How do you sleep this week?
Caddie: I sleep good because cause I'm so tired. This is not an easy walk, it's tough. It's not unfair by any means. It's just a tough walk … and long days. … You gotta get as much rest as possible.
Collins: Is it more of a mental grind for caddies this week, too, because it's a major?
Caddie: I think every major is. I always equate it to, like, a double week. It's like two weeks in one. I think at the end of every major you are mentally and physically exhausted.