You Can Buy John Daly's Driver Used During His 1991 PGA Champ Win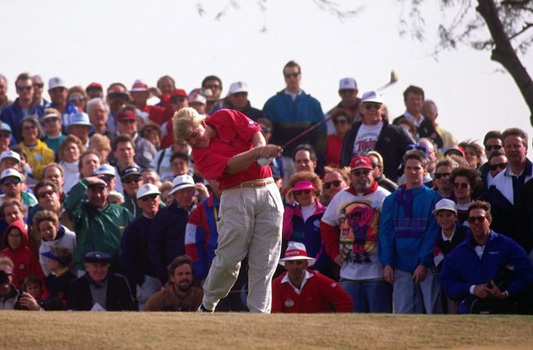 John Daly was the 9th alternate heading into the 1991 PGA Championship at Crooked Stick. And, he had missed 11 of 23 cuts. Hardly the stuff of potential legend.
As Golf.com's Cameron Morfit wrote,
The real shocker was his getting into the tournament at all, the result of a domino chain of withdrawals that ranged from excusable to extraordinary and that introduced Ken Anderson, the PGA's czar of the alternates list, to a new kid on the Tour block: 9th alternate John Daly. "I had never heard of him," Anderson recalls today. "I had to go look him up in a PGA Tour player guide so I'd know what he looked like in case I had to go find him and get him registered."
Fuzzy Zoeller: "The bunkering kind of closed in at 260, and then at 280 it opened back up to the wide-open spaces. Well, John never saw 280. He was pumping it out there 300 yards in the air."
Pete Dye: "I had Greg Norman out to the course prior to the PGA and he couldn't carry anything; John Daly carried it all."
Thus the original "Grip it and rip it" storyline was born.
Here's how the 9th alternate got his opportunity to create epic sports history.
1. Dave Barr — replaced Mark James, who chose to stay in Europe in his quest of qualifying for a spot on the European Ryder Cup Team
2. Keith Clearwater –replaced Lee Trevino, who claimed mental and physical exhaustion
3. Mark Weibe — Buick Open winner Brad Faxon already in the field
4. Bob Wolcott — replaced Gibby Gilbert, who had an inner ear problem
5. Doug Tewell — replaced Paul Azinger, who had not full recovered from shoulder surgery
6. Bill Sander — passed on final spot. Back hurting, and wanted some time off
7. Mark Lye — passed on final spot. Didn't want to play without a practice round
8. Brad Bryant — passed on final spot. Had some "personal family problems" arise at last minute and went to Texas
9. John Daly — replaced Nick Price, who withdrew Wednesday afternoon to stay with his wife, who had her baby on the following Friday
Yesterday, Daly's ultra-awesome Cobra driver was put up for auction by Green Jacket Auctions. Golfdigest.com's Joel Beall has the details.
Grip it and buy it!
According to the auction house, Daly gave his weapon of mass destruction to Crooked Stick architect Pete Dye. The famed designer then passed it to an associate, who decided to use the club in his own bag. Because of his usage, the driver does have some wear and tear. GJA also mentions that the shaft and alignment have been tinkered with.
Still, even with this attrition, the club's $1,000 starting price seems extremely reasonable. (Especially when considering Arnold Palmer's driver from the 1961 Open Championship went for $80,000.) 
The line forms to the left.