The Case For And Against A Special Ball For Major Events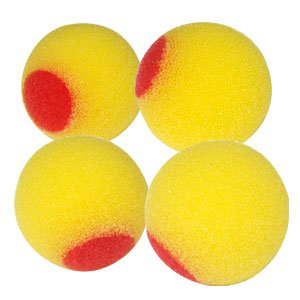 Golf.com's Michael Bamberger reports on the pros and cons of reduced-flight balls for golf's four majors. He debates with outgoing Titleist CEO Wally Uihlein.
No contretemps in golf is ever going to approach anything that happens in the pastime. (Yes, diminished ratings and all, football remains the pastime. Quick: Who played in the 2017 World Series?) But golfheads are engaged (once again) in a war-of-words on the subject of the ball. This time, it could escalate into something more, you might say, meaningful.
In the 1970s, when most Tour golfers used balata balls and most recreational players used rock-hard, long-flying Top-Flites or something like them, there were (effectively) two different games. In terms of competition, and shot-making, I believe the game played by Trevino, Watson, Nicklaus and Co. was superior to today's smash-and-gauge game, but that is of course a subject on which reasonable people will differ. Age is a factor, too.
The Dustin Johnson-Justin Thomas-Jon Rahm drive in still conditions that now goes about 360 yards would max out at about 310. Those monsters would keep all the relative advantage they have earned. Length, after all, is an important component of the game. But the 480-yard par-4 would no longer be a hybrid-wedge. The majors would be more interesting and more demanding. They would only be elevated. Maybe the U.S. Open could return to Merion without pulling at every body part.
The point here is that shorter courses, with shorter walks between green and tee, would be better for the game, and that competitions that required a greater range of shot-making would be better for the game, too. We could stop the madness of longer courses and slower rounds, and actually reverse the trend. The appeal of shorter, simpler courses would works trickle down to the game as we play it, too.
Green speeds would not have to get any faster than they are now. (Slower would be fine.) Rough would not have to get higher and fairways would not have to become narrower. (Lower and wider would be fine.) The traditional concept of the par-4 would remain meaningful, three-shot par-5s could be returned to the game and breaking 70 in a major championship would retain all the cache it has had in the 80 years since Sam Snead played in his first major championship.
Wally Uilhein's response:
You want Dustin Johnson or Jason Kokrak to play the same spec ball as Brian Gay?
And why? To make the majors more special? Huh?
When you land on the specification, let us know. Because one type player will be favored and one type player will be harmed.
And the ghost of Leonard Decof will have a field day."
Decof was the late Providence, R.I., trial lawyer who represented Ping — by all accounts, with extreme skill — in its 1990s lawsuit against the USGA over the legal use of U-shaped grooves. The Tour was a party to the suit. With great angst and at considerable expense, the case was settled.
If you're so inclined, wish the Major Ball idea good luck. It'll need it.
I unfortunately tend to agree with both sides as each stance has merit. That said, nearly every other sport (besides baseball's wood vs metal bats) have embraced better technology including swimmers with suits that make them faster in the water.
My theory is always follow the money. If reduced balls hinder revenue or a long legal battle costs millions the ball controversy will continue without a solution.