Circa 1977: My How Green Speeds Have Sped Up Over The Years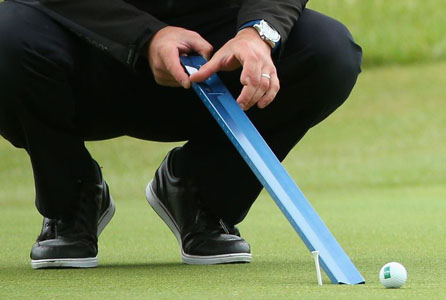 Those inside and outside golf regularly point at pace of play as one of the main demons affecting the game. Besides clueless golfers not keeping pace or courses cramming too many tee times crammed into a day, I'd like to point out the ego-driven "fastest greens possible" scenario.
This came to mind after noticing golf course architect Michael Clayton's Tweet.
Stimp Reading-USGA 1977 Augusta 7'11 Cy Pt 7'8 Merion 6'4 OHills 8'5 Oakmont 9"8 PV 7'4 Pinehurst 6'10 SFGC 7'2 Shinnecock 7'2 W Foot 7'5

— Michael Clayton (@MichaelClayto15) April 19, 2017

Even the historically slick greens at Augusta National and Oakmont were relatively tame compared to today's tile quick carpets. Now, compare those numbers against what some courses are rolling out these days (okay back in 2014).
I had the opportunity to visit Congressional Country Club just outside of Washington, DC but more on that later. During the Club Championship one of my friends sent me a text telling me the greens were rolling at 14.5 on the stimpmeter. Upon returning to Wake Forest to play Hasentree last week I asked one of the tour pros what it was rolling. They said it got as fast as 14.6 in the morning.
14.5! That is absurd–especially for recreational golfers. Frustrated and confounded players take too long pulling the trigger (fearing the embarrassing "on in two, off in three" scenario) leading to constant 3 and 4-putt greens. And forget it on severe slopes. Smooth is good, but putting on tile is not. Plus it keeps the grass healthier than scalping them to buzz-cut length.
Just sayin…