The Course Formerly Known As Ditto Gets A New Name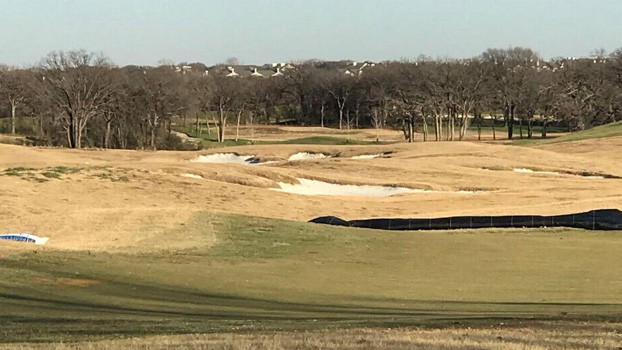 If you've driven around Arlington–specifically on Brown Blvd and North Collins Street, there's no doubt you have seen the 100% transformation of Chester W. Ditto GC. The estimated $18.3 million project is slated to open with the golf course first in 2019 2018 (typo in article) with the clubhouse scheduled for mid 2019.
Of course, it never hurts to rebrand, so the city is borrowing an idea from Grapevine's very popular Cowboys GC to begin a partnership with the Texas Rangers. The Star Telegram's Bill Hanna reports. (The city council vote officially passed last night).
In its report to the City Council, the staff report said that Ditto will become "the only MLB-branded course in the country."
"This is a great opportunity with the Rangers willing to lend their name to it," Arlington Mayor Jeff Williams said. "It is a tremendous enhancement for golf and for our citizens in Arlington. It is also an improvement that will help with property values in the neighborhoods around the course."
While the renovated golf course should attract and keep visitors in Arlington for longer stays, Williams said the course will still be accessible and affordable for Arlington residents.
The city's Parks and Recreation Department will begin developing brand concepts for the course and clubhouse, the staff report said.
"This unique branding element for the City would provide the opportunity to create another tourism element for sports enthusiasts of all kinds, residents and visitors to our community," the staff report said. "The vision of this partnership is to create marketing and promotional opportunities between the City, ACVB (Arlington Convention and Visitors Bureau), UTA and Texas Rangers."
The course hopes to compete with the likes of the Cowboys Golf Club, Waterchase Golf Club in east Fort Worth and Texas Star in Euless as a public golfing destination.
I've driven the new course and it looks like a fantastic design with a humongous practice area. When opened, Texas Ranger GC would essentially drop the very popular Tierra Verde GC as the 2nd best course in the city's 4-course rota. A press conference is scheduled for Friday.