Danny Willett Candidly Reveals The Ups And Downs Since Winning Masters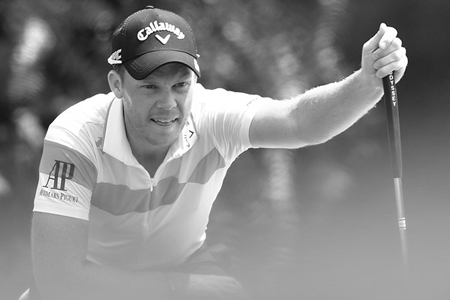 Danny Willett has endured quite an emotional see-saw since winning the 2016 Masters. Crushing expectations, being too famous, becoming a new father and a painful back has whittled away the euphoria of wearing the Green Jacket.
Willett sat down and wrote a refreshingly honest blog post on how the last year and half has affected his life and playing career. To the naysayers, it may sound whiny, but the sports world is full of athletes who were uncomfortable and unsure under the constant media scrutiny once they gained instant fame. Its worth your time to read the entire post.
"There's not a day that goes by when I don't think about winning the Masters."
Before Augusta I was a good, but 'normal' Tour pro. I was able to go about my business during the week, getting a practice round in, do my work and just prepare quietly for each week. After the Masters, every time I went to the range, every time I was on a putting green or in a practice round, there were cameras on you and everything's being filmed and recorded. That magnifies everything to the nth degree. People that know me, know that I wear my heart on my sleeve and if I'm having a bad day on the course, I'll show it and if I'm playing well and everything's great in the world, you can tell. That's just who I am. When the spotlight was on me constantly, I felt I had to dull that side of me down a little. It's much harder to show some of that emotion, good or bad, when everyone's eyes are on you.
The truth is very few people know the sacrifices I make to try and be the best golfer I can be. They don't know that I'll get up at 5.00am to get some practice in or hit the gym before my son wakes up at 6.30 and I need to help my wife with him. They don't know that I'm still working my nuts off in the gym and on the range only to go out and shoot a 75. They think I should be able to shoot 72 just showing up for my tee time in the afternoon but it's not that easy.
The funny thing about the spotlight I've experienced is you eventually begin to aim it at yourself and question what it is you're doing and whether you're doing the right things, working in the right way, progressing to push yourself beyond what you've already achieved. After time, we came to the conclusion that perhaps things weren't working as they had been with Mike (Walker) and Pete (Cowen) as they had been for the previous two years. It was a big decision to decide to change my coaches, and move to Sean Foley, but I felt like it was my best chance to get back to what I was doing so well when I achieve the success I had in 2015 and 2016.
The truth is that when I was swinging badly, I was putting strain on my back and it became an issue. I had to pull out of a couple of events and it became a problem. It was annoying as working out didn't hurt it, drills didn't hurt it but firing into the ball at full speed and just being a little off could cause a lot of pain. It ended up taking over my game as I'd be taking painkillers in the morning after waking up in pain, getting an hour of physio before each round, playing the round with a swing that hurt, then needing an hour of physio after the round. I was just knackered.
Honestly, the injury became a self-fulfilling issue as I wasn't playing well, which hurt my back but I would go home and hit balls for five hours at home in a position that was aggravating my back more. I knew it needed some swing changes and changes in the way I prepared to allow me to get healthy again and starting getting back to the form I know I'm capable of.