David Duval Is Rising Quickly On The TV Announcing Leaderboard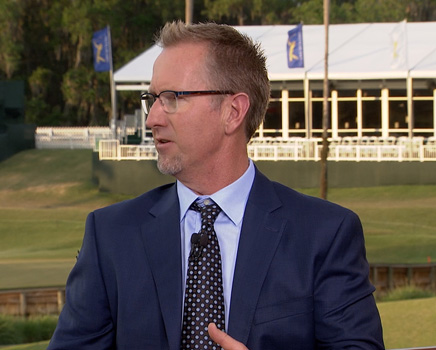 The once shy and mysterious David Duval has become quite comfortable morphing into a top-flight announcer. His careful, fair and studied comments mesh well with the GolfChannel top-dogs Brandel Chamblee and Frank Nobilo. And, he brings a #1 ranked pedigree that far surpasses any of the other talking heads–other than Sir Nick Faldo–who was also owned a standoffish reputation before embracing the microphone.
Morning Read's Steve Elling provides a good essay on Duval's rise to real potential stardom.
Duval, a former world No. 1, began a budding secondary career as a golf analyst in 2012 at ESPN, which included providing commentary in the network's British Open online stream at ESPN3, where commercials and breaks are about as common as trees on a seaside links.
There were no training wheels applied, few baby steps, and no speech or communications courses in college from which to draw. There was barely time for bathroom breaks.
"To sit there and talk – the first year was just a hole or two – for 12 hours, it was kinda like, jump in and figure it out," Duval said.
Six years later, he has become a centerpiece during the biggest broadcasts at Golf Channel and morphed into perhaps the network's biggest star in terms of his playing pedigree. And while picking favorites is always a subjective exercise for viewers, a guy who once was considered aloof as a player has become a spinner of broadcast gold in the minds of many.
It turns out that he had plenty to say, after all.
The transition began when a former ESPN producer who was pals with Duval's caddie, Ron "Bambi" Levin, asked if Duval might be interested in stepping behind a microphone. Levin, who probably deserves a caddie's percentage for transacting the deal, relayed the offer. For those who had dealt with Duval over the years from a player/media perspective, the announcement that he would be making his broadcast debut at the 2012 U.S. Open on ESPN3 was met with great interest.
While there was little question that Duval was articulate and impressively bright, he also was withdrawn at times. To some, his dark sunglasses made him seem less approachable and guarded.
"I don't know about reluctant, but skittish is fair," said Duval, who plans to work 15 or 16 events this year at Golf Channel. "But I had reason to be, because of what I perceive to be some misquotes, misinterpretations, construing some things and intentions of words I didn't have, things like that.
"The thing I think is intriguing about David is, one, that he's not afraid to throw his opinion out there, and secondly, that he does it so precisely," said Bill Kratzert, a former Tour winner and analyst with 20-plus years of experience at ESPN, CBS and Golf Channel. "That's what I love about him, that it's not this rambling.
"He'll give you an opinion. It'll be quick, and whether you like it or not is up to you."
Elling says rumors are swirling that Duval could be next in line for Johnny Miller's seat. I'd certainly be up for that as I enjoy his expertise and calm, measured responses.