Dustin Johnson's Winning Putting Secret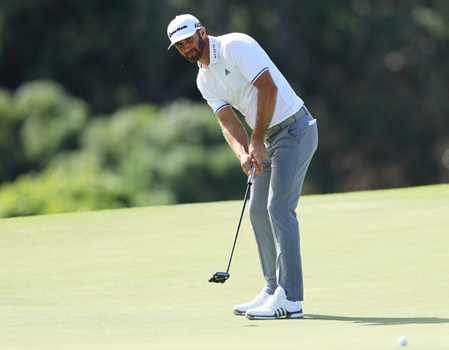 All the talk surrounding Dustin Johnson's eight-stroke win at the Sentry TOC was his prodigious drives–especially on the 433-yard par-4 12th that he nearly jarred.
Yet, it was his putting that also added to the big winning margin. He didn't 3-putt all week and in fact made only 3 putts outside 9-feet. Meaning, his approach shots were consistently tight.
Anyway, Golfwrx.com has the inside skinny on the little tweak DJ used on his TaylorMade Spider Tour Black putter last week.
"[Dustin Johnson] was struggling with his putting end of last season, punctuated by his lost lead in China after struggling on the greens. Keith Sbarbaro [his fitter and VP of Tour Relations] met with him in Carlsbad at the putter lab to solve his woes. The Tour team built 12 identical Spider Tours, each with different sight lines (long, short, dots, etc.). He hit 5 putts (flat, 15 footers) with each sightline in the lab. The putters with the long lines he was aiming upwards of 10 inches left of the hole. The short line model(s) he lined up left edge. The one he used all last year with no line was 1 inch left of center, but the "T-line" model was right at dead center nearly every putt…"
It's amazing to me that the World No. 1 golfer, who won four times in 2017, could be aiming upwards of 10 inches left of the target. I don't care if it's an old-school 8802-style putter with no sightline, that's eye-opening to hear a golfer of his caliber can be that far off with his aim from 15 feet. It just goes to show how much the look of a putter, and the alignment lines, can have an affect on your aim. And it also explains to us mortals that we should be doing the same test for ourselves before buying a putter.
Something to contemplate the next time you're struggling with the flat stick.