Emiliano Grillo Flings Offending Club Into Lake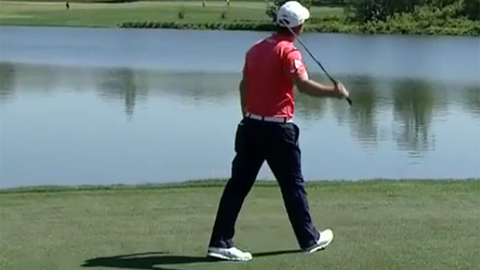 There are times when a misbehaving golf club just needs to go. Like into the water.
Emilano Grillo was having a tough time during the Arnold Palmer Invitational. After holding the 36-hole lead, Grillo ballooned to a 78 in the third round including a quadruple bogey on the par-5 sixth hole. From the fairway, Grillo found water on his next two shots. Afterwards, he decided the offending 3-iron should follow into the H20.
!!! pic.twitter.com/vJV8Isakxv

— Skratch (@Skratch) March 18, 2017
It was good to see Grillo have a good-natured laugh at himself on Twitter tagging two pros who are known for flinging their sticks as well.
@McIlroyRory @JustinThomas34
Guys, been working on my plane lately. Seen yours is amazing, anything you can say about mine? pic.twitter.com/WDh08jOmp1

— Emiliano Grillo (@GrilloEmiliano) March 19, 2017