Florida Man Escapes Doom By Punching Gator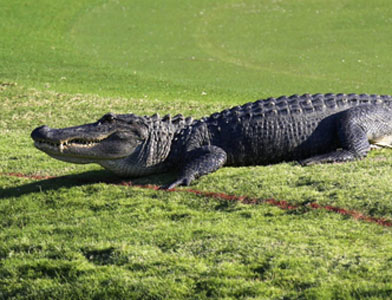 Golfweek.com posts yet another story of golfer vs. gator on a golf course.
Scott Lahodik was attacked by a gator while diving for golf balls in a lake near Fort Myers before he punched his away from the animal. Lahodik told Fox 13 he socked the prehistoric reptile in the eyes after the gator grabbed his arm while he was grabbing golf balls and wouldn't let go.
"He just came and, full blast, grabbed my arm all the way back in his throat and then he started to roll with me," Lahodik told the TV station.
"He rolled a couple times and then he still didn't let go so I knew I had to  do something, so I started punching him up by the eye and then he let go."
The attack on Friday left Lahodik with 400 stitches and staples in his arm.
"I got a call with him screaming on the other line with a gut-wrenching sound telling me that he had been attacked by an alligator," she said.
Be careful out there…