A Grayson Murray Tweet Ironically Puts The Champions Tour In The News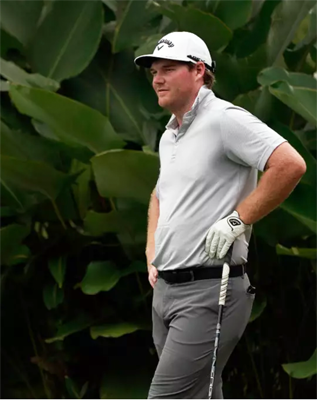 Only a Grayson Murray tweet could put the Champions Tour above the fold. The Tour is a great annuity for those fortunate players able to "qualify" for the incredibly closed shop fraternity. In fact, no one seems to know what exactly are the qualifications.
But I digress.
Twitter lightning rod and PGA Tour player Murray stepped in it yesterday when he responded to the "unfairness" of Kevin Sutherland (1 tour win this year) and not Bernhard Langer (seven wins) not winning the Charles Schwab Championship. He has since deleted the tweet…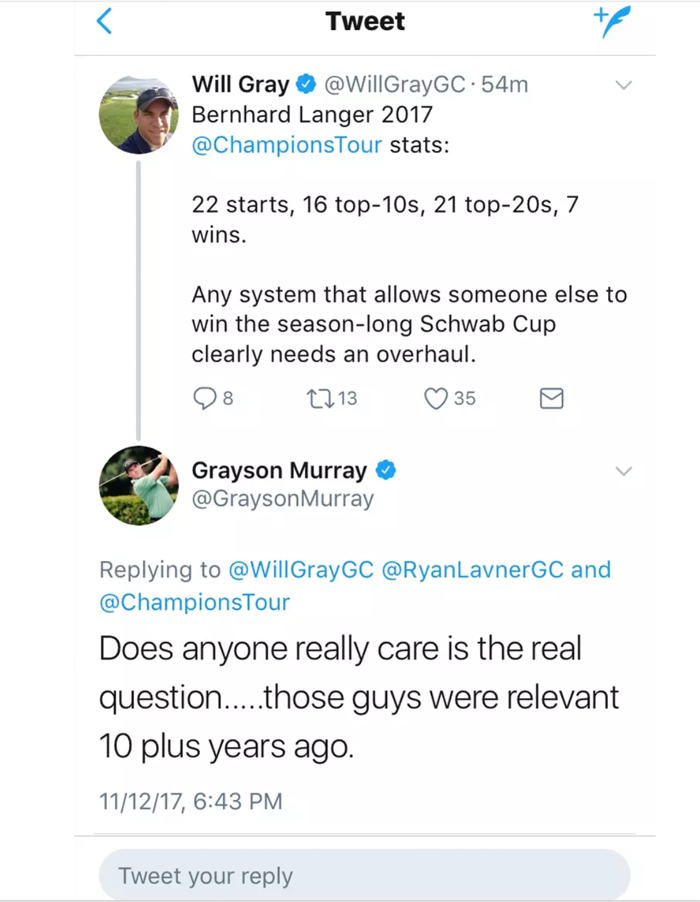 The reactions were quick and strong but unfortunately died along with the deleted tweet. Anyway, I'm not a huge follower of the senior circuit, but there really wasn't a smart reason to bash the players.
Something tells me there will be another secretive fine levied by The Tour against Murray for his stream of unconsciousness…
To the subject of who should've won the Schwab Cup, it certainly shows a huge flaw in the points system when comparing the seasons Langer and Sutherland posted.
GolfChannel's Will Gray posted this head-scratching nugget.
This is Sutherland's first tournament victory since his lone PGA Tour title at the 2002 WGC-Accenture Match Play Championship. It marks the first time since 2013 that someone other than Langer won the season-long trophy on the over-50 circuit.
Langer had 16 top-10s and 21 top-20s in 22 starts this season.
Golfweek's Kevin Casey offer this…
Overall, Langer fails to capture the Schwab Cup despite a season that included more wins than his last two Schwab-Cup-winning campaigns combined.
To Langer's credit, he sort of took the high road…
"I think it needs adjusting," he said. "I do, personally, because you could have somebody win the whole thing that hasn't won a tournament all year, and I'm not sure that's ideal. But I was on the [PGA Tour Champions policy] board. We said we're going to try this out. I'm not sure if it's perfect. It's maybe like the FedExCup. They had to adjust it two or three times to make it interesting but also make it a little fair.
"It was never meant to be fair," Langer said. "It was meant to be playoffs. Everybody in the field was given a chance to win. Is it fair? No, it's not, but that's how it is right now."