Is This Idea Genius Or Absolutely Nuts?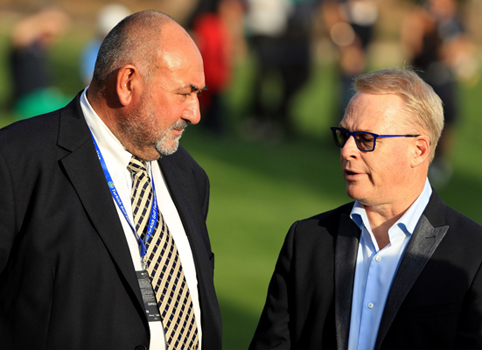 Buried in an article about the surprise split earlier this year between agent Chubby Chandler and Lee Westwood, is an intriguing notion by Chandler on how to speed up play. The European Challenge Tour will try it out in one event next year to see how it goes.
Question is whether if its a genius idea or bat-s crazy?
By way of example, next year's European Challenge Tour is expected to feature an event that Chandler has a hand in in which par will be every player's "friend." In a bid to finally win the seemingly never-ending battle with slow play, every competitor will be banned from putting for par. As soon as a birdie has not been achieved, it will be ball-in-pocket and on to the next hole.
"It won't just be that par doesn't count. The players will be banned from putting out once they haven't made a birdie," Chandler says. "That way they will all be round in three hours. We will have two points for a birdie, five for an eagle and eight for an albatross. That's been done before. But no putting for par, which counts as zero. So you can't knock it out of a bunker to four-feet and putt for par. Not allowed. And that's where things will speed up."
Players will also get double points if they hole-out from off the green, and all points will double on the last three holes. "Everybody is in with a chance right to the end," Chandler says. "That might all turn out wrong. But it could also be really exciting. We'll see. We're not changing the game that much. We're just making it quicker and getting rid of the dull bits. No one really gives a bleep about eight-footers for par."
Consider me officially intrigued. It will never happen (nor should it) at a major but there isn't a more boring aspect of golf viewing than gazing at countless golf sloths lining up 5-footers for par. Is it golf? Well, not in the literal sense. But, there are times when tradition needs to take a break just to see if "blasphemous" epiphanies poisoning the very fabric of a sport (designated hitters?) might actually add to the playing and viewing enjoyment.
For instance, in some charity events, the best formats add par or bogey as your friend. Keeps the pace moving and removes the horror of six-hour marathons. Will it work? Absolutely. But you'll have to pick your spots.
As I'm fond of saying…"Everything in moderation. Including moderation." Sometimes you got to take ideas to the extreme to see what can work.