The Most Interesting Journey Of David Duval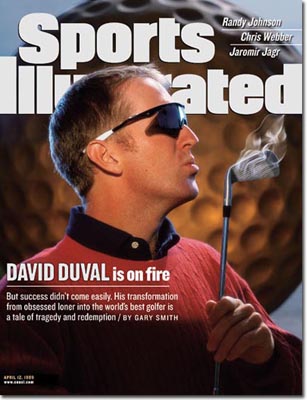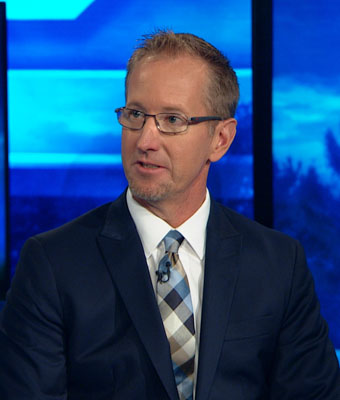 For those just now formulating their golf consciousness and seeing David Duval as only a GolfChannel commentator, be aware that he was once the hottest golfer on the planet, making it to #1 in the world and winning a British Open in 2001. In fact, Tiger Woods once admitted Duval's name was the one on a leaderboard he feared most.
Duval won 13 times (including 3 straight) before the age of 30, was the first to post a 59 in a final round to win an event and had a chance on four consecutive Masters Sundays to win the green jacket.. He was the man just before Tiger casted his formidable shadow over the entire sport.
The once stoic Duval has segued nicely into the broadcast booth (not unlike Nick Faldo who was a sullen sort in his playing prime). His commentary is honest, spot on and he does his homework. The lively mixes between him, Brandel Chamblee and Frank Nobilo are the best golf has to offer.
Ron Green posts a long but terrific piece on the once-mysterious-behind-the-sunglasses Duval on how he became a great player before having doubts upon reaching the top of his profession.
Other than Woods, perhaps no modern player has so effectively wrapped himself inside his own cocoon as Duval did. It felt at times as if he played golf surrounded by an invisible fence.
Duval played fearless, relentless, virtually mistake-free golf.
"He was a bad-ass golfer," Chamblee says.
With a capital B and a capital A.
"What a tremendous player. He wasn't scared of anybody," says Ben Crenshaw, captain of the 1999 U.S. Ryder Cup team that included Duval.
"The eighth hole is a 240-yard par-3. It was cold. It was dead into the wind. It was a back-in-my-stance 3-wood trying to drive it low, run it up on the left side of the green. He hit a 2-iron a couple feet away. My jaw dropped," Chamblee says.
"I was asked to come into the media center on Sunday and I was asked by members of the media, 'Why is David not good enough to get it done?' That's where everything was going (at the time). I was like 'He's going to win and win a lot. He's going to win 20 tournaments.' Tiger hadn't come along yet. There was nobody in the game of golf I had played with – and I'd played with Norman – who hit it as long and straight and was so fluent in every part of the game as David.
"David had the lower body of Nicklaus, the upper body of Norman and the mind of Hogan."