Juli Inkster Still Doesn't Get It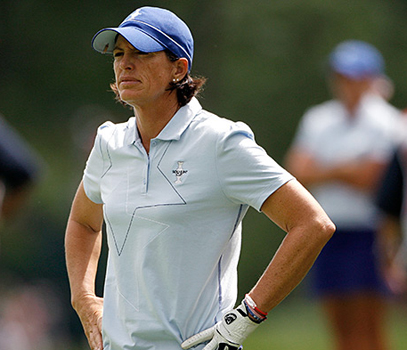 LPGA Hall of Famer and U.S. Solheim Captain Juli Inkster recently took some flak for her stance that women's golf doesn't get the respect (i.e. money) it deserves–from networks and sponsors.
MorningRead.com's Alex Miceli conducted a follow up interview with Inkster and well, you decide if she had an epiphany about what sponsors look for when spending their money on endorsing events.
Miceli: Regarding your comments at the Solheim Cup, do you have a solution? 
Inkster: You can't really solve it overnight. To me, it's about these corporations believing in our product. I feel like sometimes we get shortchanged as far as our skills. And I think a lot of people don't really know how powerful and how good these players are, and I feel like a lot of these CEOs – and I can't pick one – would rather play with a Jordan Spieth or a Dustin Johnson, to tell their buddies that they played with Jordan Spieth or Justin Thomas, instead of saying, Hey, I played with Lydia Ko or Lexi Thompson. I still think we get shortchanged because we're women.
AM: Do you think the WNBA women are shortchanged like the LPGA women are to the PGA Tour?
JI:  Well, I feel like it's all about the home run. It's about the long bomb. It's about the slam dunk. It's about how far you hit the ball. It's not about the hit-and-run. It's not about the bounce pass. It's not about the wedge play, getting it up and down. We don't hit it as far as the guys; never will. We won't be able to slam dunk it. We won't be able to hit home runs, but we have a lot of good things that we do. I'm saying that the guys are the best in the world; there's no doubt about it. But we're the best at what we do, and we do it well. And I don't feel like we get the credit that the guys do.
AM: You did a bad job with Golf Channel. You had a commissioner [Carolyn Bivens] that got corporations completely upset with what you were doing and left. So, Whan had to take that, bring that all the way back. Do you think there's any culpability, not on your personal side, but on the LPGA's side?
JI:  Well, I don't really know that business side, but I know Mike's done a great job. We're a global tour. We make more money overseas than we do here, OK. Is that fair? I'm not sure that's fair. I don't know why we don't have AT&T sponsoring the women. I don't know why we don't have Dell computers sponsoring a women's tournament. I know I pay most of my bills. I know I support a lot of these companies, but what are they doing to support women's initiatives?  Whether it's golf, tennis, basketball, lawyers, doctors, businesswomen, whatever, I just think that they're not. They're shortsighted, and they're not looking at the big picture.
AM: Considering women are the majority of the population?
JI:  And pay the majority of the bills at home.
AM: Why does this happen?
JI:  I don't know. It blows my mind away. I don't know. I'm just saying if a lot of these companies would just think about it. Just think about it. Just give us a chance. It's like the PGA of America taking KPMG, taking a chance on us. And we need more companies like that to showcase our golf. And we need media. We need positive feedback. I mean, we had the greatest Solheim Cup. Golf Channel didn't even televise the whole thing.
It's simple Juli. When you have a product that attracts a large number of fans, sponsoring companies notice and will come aboard. It's not that businesses are against women, its basic market analysis. As I stated before, Olympic female gymnastics, ice skating and women's pro tennis draw plenty of interest and sponsors. This doesn't mean the LPGA players are woeful athletes–far from it. But until something or someone exceptional arrives to perk mass interest (another Michelle Wie prodigy maybe?) women's golf will never attract the same money the PGA Tour does.
It isn't sexism. It's simply pure capitalism.