What Is It Like To Be A Masters Intern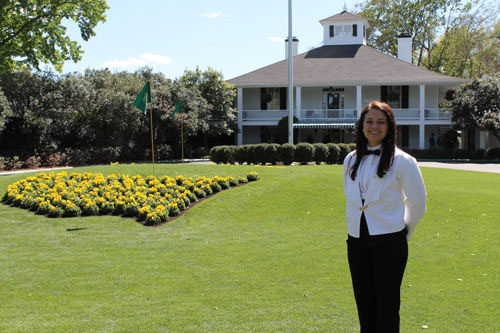 Most intern jobs are fairly mundane affairs but also invaluable to gain a peek into real-world life after college. So, what was it like for University of Nebraska-Lincoln students in its college Hospitality, Restaurant and Tourism Management program as they "toil" at the Masters during that week? Jeff Bahr of the Grand Island Independent interviewed a student who was working her second Masters to offer us insight.
Both years were very challenging and "hands down the hardest I've ever worked in my life," Pfeifer said. But she also said the experience was incredible, special and "really unique."
She was impressed with the treatment from the management "and the way that they motivated us the entire week and how they kept us going, even on Sunday, the last day of the tournament, when we were just completely burnt out."
To run the Masters, Augusta National brings together supervisors from top golf courses nationwide and people with five-star restaurant experience. It was great learning from the best of the best, Pfeifer said.
Besides meeting a pretty good class of people, Pfeifer enjoyed another perk of working in the Rolex suite.
The food was served buffet-style. Switching from one meal to the next created leftovers, allowing the college students to "pig out" on Eggs Benedict, crab legs and premium beef. In the Rolex suite, "You work like a dog but you eat like a king," she said.
Pfeifer and her fellow servers adhered to the highest standards of fine dining. "Most of our guests in the Rolex suite were European," she said.
Long days made the Masters job physically demanding. "And that's where we really rely on each other to keep our morale high," Pfeifer said. They reminded each other to step back, realize where they were and how many people dream of being in that spot.
Rules and policies separate the Masters from other golf tournaments. Cellphones are largely banned during there. Employees who approach a celebrity are terminated, Pfeifer said. Augusta National wants the course to be a sanctuary for celebrities, she said.
Although Pfeifer didn't witness many big shots on the course, she saw plenty of big shots in her suite. She's not allowed to talk about them.
"But I can tell you that specifically in the Rolex suite, every year we are serving private lunches for the legends of golf," she said.