Maybe Not The Best Course Of Action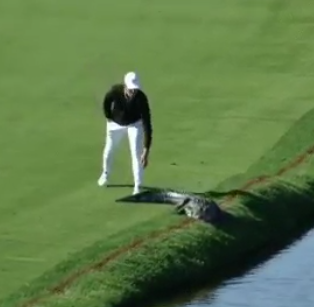 Cody Gribble was a disappointing +3 during the first round of the API when he happened upon an alligator catching some rays.
So, when you're +3 and pissed at your round, what is the best course of action? This?
Just tap it in.

⛳️ 🐊 pic.twitter.com/DhM3bwvICJ

— PGA TOUR (@PGATOUR) March 17, 2017
"I've done it a couple times before," Gribble said. "If you think if that's crazy, you should meet my father, Bill Gribble. Next time you see him, have an interview with him. He loves all types of animals, but, yeah.
"I wasn't too worried about it at the time. Those guys, I mean, it's like a jolt, it's quick, they're not going to catch you, they're not going to catch you a couple of steps down. I mean, they're going to get you really quick early, but I'm not in its way. I'm right behind him. It's not going to happen."
Hopefully, he pauses a bit longer before tapping a gator next time. Or, he might wind up like this.