Meet Golf's Newest Twitter Phenom Trackman Maestro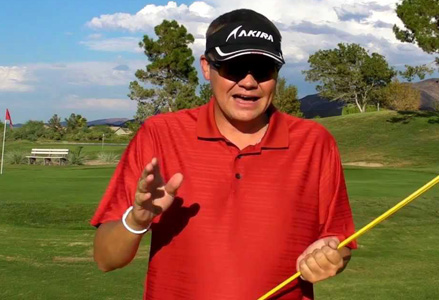 YouTube Waite Mayo
Twitter has enhanced the visibility of many smart folks who know how to (or lucked into it) uniquely market themselves. The latest is a one-time college volleyball player who fell into the world of teaching golf swings and ultimately created a nice following with his helpful hints and terrific handle; @Trackman Maestro.
Let Joe Mayo tell you how he arrived at the name.
"I thought, What's the douchiest name I can come up with?" Mayo says. "I figured I'd have 26 followers and no one would notice. Now I've got almost 25,000. But it was meant to be a gag. Who calls themselves a maestro?"
Golf.com's Alan Shipnuck profiles a guy you should follow.
In fact, Mayo has helped reinvent modern golf swing theory with his mastery of TrackMan data. He serves as the director of instruction at TPC Summerlin in Las Vegas and has helped numerous Tour pros, but Mayo's influence has spread exponentially thanks to the Internet. He has become a case study on how to build a business through social media—and a cautionary tale of the Twitter blowback that can come with it. "It's been a wild ride," he says, "and then some." 
Mayo got out of golf and spent most of the next decade playing professional poker. But in 2008, while thumbing through an issue of GOLF, he was thunderstruck by an article about a nascent machine called TrackMan. "I sat there and it was like, Ding-ding-ding!" he says. "I knew I'd finally be able to get my questions answered."
He took a job at a retail golf store in Vegas and talked a wealthy golf buddy into spending $25,000 for a TrackMan, promising him free lessons for life. Mayo focused his beautiful mind on the data, and quickly developed a reputation as a savant. This brought him to the attention of Grant Waite, the longtime Tour pro who'd transitioned into a highly respected swing coach. At the time, Waite was working with Mike Weir, Charles Howell, Brian Gay and Daniel Summerhays. He asked the maestro to be his wingman on Tour, and Mayo found a rapt audience among the game's best players.
"He's kind of like Rain Man," says Gay. "Joe was able to interpret the numbers, he was able to decipher it and have it mean something. A lot of people still don't understand how to translate TrackMan. He made the information available to the masses."
Of course, it was precisely Mayo's spiciness and knowledge that earned him a cult following on Twitter and brought the world to his doorstep. He estimates that 80 percent of the lessons he gives are clients he has reached through social media, and they come from as far as Russia and China. Mayo now commands $500 for a 90-minute lesson and $2,500 for a full day. For $200 you can e-mail him video of your swing and he'll offer a detailed analysis and improvement plan.