Mickelson's Shocking Worst Major Score In 20-Years Is Worse Than Eight Club Pros At PGA Championship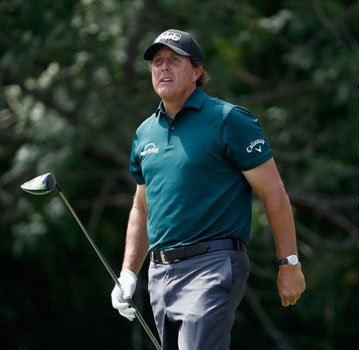 Whoa. Heading into his 100th career major championship, Phil Mickelson was a good bet to perform well mainly due to his stellar scoring at Quail Hollow GC.
Best scoring average at Quail Hollow in Wells Fargo, min. 12 rounds:

McIlroy 69.5
Mickelson 70.2
Fowler 70.5
Furyk 70.7#PGAChamp

— Justin Ray (@JustinRayGC) August 8, 2017

Uh, forget what you just read as Phil posted a birdie-less 79–his second straight major (so far) without a birdie. Eight club pros beat his score on Thursday.
The Thursday round—his worst-ever in a PGA Championship—completes a forgettable major season for the 47-year-old, barring an ultra special second round. This would mark the first year since 2007 that Phil hasn't had a top 10 in a major, which was also the last year Phil missed two straight cuts in a major (yes he skipped the U.S. Open to attend his daughter's high school graduation).
He also bypassed the media while headed straight to the parking lot to escape. This one definitely stung for a guy who always sticks around to talk to the press.
Meanwhile Ernie Els —also playing in his 100th career major– had similar issues when he posted an 80…
Golf.