A Novel Idea To Improve Golf Broadcasts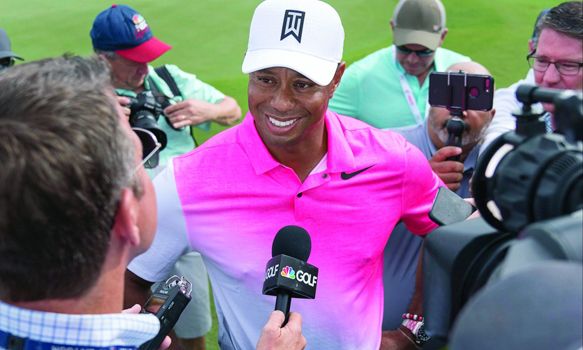 It appears most major sports are taking a long look on how to improve ratings and viewer satisfaction with their telecasts. Golf is no different. Yes, some networks like NBC and GolfChannel utilize "playing thru" split screens during commercials which is better than completely going away–but difficult to follow a small ball on a shrunken screen.
Another novel idea is brought up by Golfweek's media writer Martin Kaufman.
In a nutshell, less unnecessary and obvious play-by-play and more astute play analysis of what the viewer is watching. Who wouldn't want to hear GolfChannel's Brandel Chamblee, Frank Nobilo and David Duval riff on the play via an alternate channel–just like during their post round analysis. Except this would be in real time. I love it.
Sadly, much of televised golf revolves around exactly what Chirkinian despised: announcers saying that this player blocked his drive, that player pulled his approach and that player's putt "came up short." How often do we hear that one?
With the return of Tiger Woods at the Hero World Challenge, I was looking for something more substantial. So I spent the first round in Golf Channel's analyst viewing room with Brandel Chamblee, Frank Nobilo and Trevor Immelman. (I discussed this last week in a blog that can be found on Golfweek.com.)
I was simply eavesdropping on their conversation as they watched Woods, and I found myself wishing other viewers could have shared my experience. Their level of insight went far beyond anything I heard during the following three days watching the traditional coverage.
Just spitballing here, but one alternative would be to offer viewers a digital alternative to the traditional coverage, much like what we already see during major championships. If you want to watch the regular coverage, turn on your TV. If you want to hear what guys like Chamblee, Nobilo and Immelman are discussing, call up the Golf Channel app and listen to their spontaneous observations on a second screen.
They wouldn't be constrained by time or circumstances because they wouldn't be wedded to traditional play-by-play. If Chamblee wants to do a deep dive into the statistical impact Woods has on his playing partners' scoring averages, he can do that. If Immelman wants to take a couple of minutes to demonstrate the problems he sees in Woods' chipping, he can do that.

Give it a go. Oh, and add ProTracer graphics for every full shot and animated graphics displaying breaks/contours/putting speed of greens while you're at it.
I believe it will significantly increase viewer enjoyment, better ratings and ad dollars.