Rory McIlroy And Kevin Na Post Ironic Scores After Their Wednesday Commentary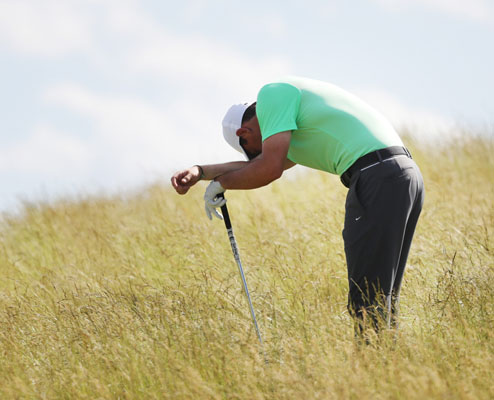 On Wednesday, Rory McIlroy was surprised that officials mowed down the highly discussed rough saying…
"We have 60 yards from rough line to rough line. You've got 156 of the best players in the world here. If we can't hit it within that avenue, you might as well pack your bags and go home."
Well, Rory just might be heading home earlier than planned unless he rallies big time today after finishing +6 Thursday. And that was after being 2-under after two.
"I watched some of the coverage earlier on," McIlroy said following the round. "Seeing what Rickie did, and Brooks Koepka, some of those guys. I was trying to do that. I thought I was going to do that, two under through two."
For a guy who finished the first round ranked 7th in driving distance at 326 yards, it played out as an ironic tale given his statements earlier this week. He hit five of 14 fairways, which ranked dead last in the field. McIlroy is a momentum player, and Thursday he found none of it.
In each of his four major victories, Rory has either led or trailed by one stroke after the first round. Even when he's started slowly, McIlroy has often found a way to backdoor a top 10. Think of his four straight top 10s at Augusta National without contending to win. Or his 67 last July at Troon's Open Championship for a T5. Or his six birdies in 13 holes Sunday at Chambers Bay to flirt with the trophy before tying for ninth. Eventually, McIlroy reminds everyone just how elite of a player he is. Maybe that begins Friday, but maybe it's not enough. When he tees off at 8:24 a.m., he'll be trailing Fowler by 13 strokes and fighting to make the cut.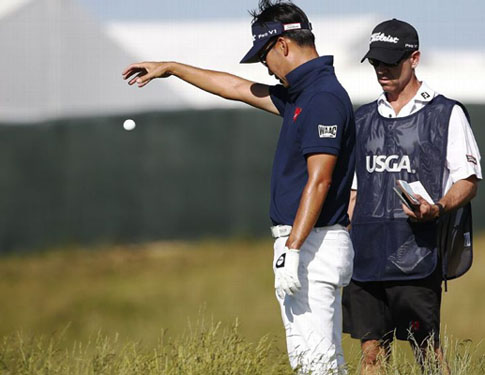 Meanwhile, Kevin Na who posted a viral video pointing out the dire consequences of hitting into (and out of) the hay, played well. His lone drop shown above was his only issue yesterday and he was 10 shots better than McIlroy.
"A lot of guys were supporting me out here," Na said of his fellow players. "A lot of guys were thanking me because they mowed the fescue because of me, getting a good laugh. They said, 'Hey, can you tell them the course is too long? They'll move up the tees.' The players get it, and I had a good time."
"A lot of guys took my social media post kind of the wrong way," Na said. "If you read my post it says, 'I love the design.' I was just trying to show what we have in some spots. The fairways are generous, and I said all that. But most people don't like to read."
Today's round will no doubt bring another collection of highs and lows posted on the leaderboard.
UPDATE: Course giveth, course take away…Na finished the 2nd round even after a +4 day. McIlroy will likely miss cut at +5…