Rory McIlroy Loses To Augusta National Stick Jeff Knox Again After Spotting Him 8 Shots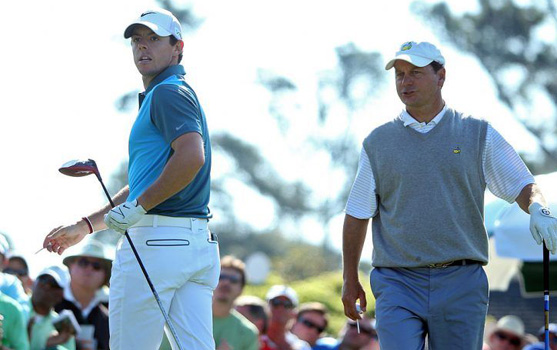 Rory McIlroy once again loses to Augusta National's talented member Jeff Knox after spotting him eight shots in a recent practice round. It is the second time McIlroy lost to Knox (2014 when Knox was a marker playing with young Rory in the final round).
During that round, Knox shot 70 to take down then World No. 1 Rory by a stroke in 2014. Knox's unofficial record when playing against pros in the Masters is 6-8-1 (as of 2016). So he added at least one official victory over a highly-ranked professional. No official score was recorded for the latest battle.
GolfChannel's Will Gray summarizes the day.
Knox memorably beat McIlroy when the two were paired together during the 2014 Masters, and he got the better of McIlroy on Thursday after the Ulsterman spotted him eight shots.
"I lost that match on the first tee," Rory quipped.
"Conditions were good. Feel like every week they ramp it up," he said. "The golf course is in great shape. They probably could have turned on the sub-air system and could have had the tournament in a couple of days' time."
"Totally ready," Rory said. "I'd be happy to go to Augusta tomorrow and play, and feel like I have a good chance."
Rory is just one of the compelling stories heading to the Masters, along with Phil Mickelson's recent win and Tiger Woods showing some returning golf chops. I do believe the pressure of achieving a Career Slam will weigh on McIlroy and continue compounding the anxiety each year he doesn't earn the Green Jacket.
Meanwhile, Knox may have the best gig in golf playing a fantastic course and regularly against the world's best golfers.