Rory McIlroy Plans To Have The "Wedding Of The Decade"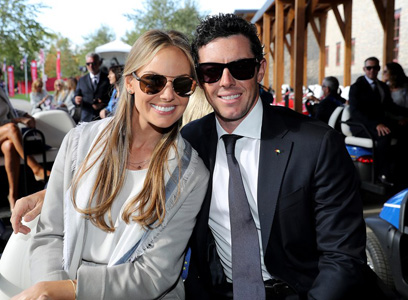 My son is getting married next weekend to a wonderful gal. But I can guarantee you they are not planning on having Coldplay perform at their reception. Or Ed Sheeran.
Yes, Rory McIlroy and fiancee Erica Stoll are reportedly finalizing plans for their "Wedding of the decade" at Ireland's Ashford Castle this Saturday April 22.
The Irish Independent also notes that rumors are emerging that another guest will be Ed Sheeran, who is said to also be performing at the wedding despite the fact he has a concert at England's Manchester Arena (a 50-minute flight from Ashford Castle) that same night.
27-year-old Rory has revealed that he'd have worn the prestigious green jacket from the Masters on his wedding day if he'd won the title he so covets in Augusta at the weekend.
Golf's biggest names are expected to fly in for what insiders have already dubbed the "wedding of the decade".
Rory – who is already one of sport's biggest earners – is sparing no expense on his dream nuptials. 
"It's a great time in my life and it would have been nice to walk down the aisle in the green jacket!
"It's a great time in our lives and it's all about that over the next couple of weeks and I'll come back at the Players refreshed and a married man and start a new chapter in my life."
The website reveals that for bespoke weddings couples can have exclusive use of all of the Castle's 83 "beautifully decorated" rooms and suites.
Prices quoted range from £54,000 ($68,800) in low season to £79,100 ($100,000) in high season.
But indications are that Rory has booked the Castle for two days, not one.
He can afford it as he recently re-upped his Nike apparel endorsement for a reportedly $100 million.