A Tour Pro Describes The Wildfire At The Safeway Open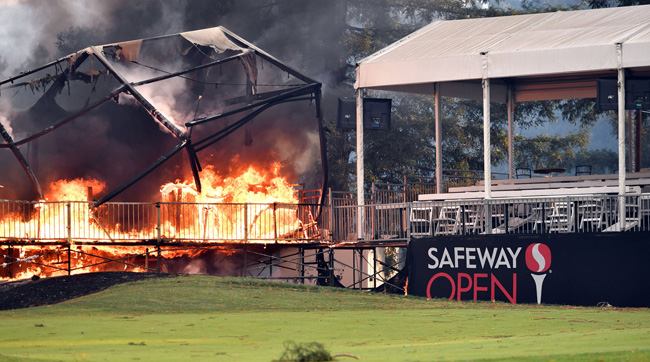 Having grown up in So Cal, you'd brace yourself when the hot Santa Ana winds would transform the typically lush landscape into a tinderbox. On Sunday, big winds near Napa moved a fire quickly towards Silverado Resort–home of the Safeway Open. In fact, evacuation alarms began just after the tournament's conclusion causing staff, volunteers and Tour pros to scatter quickly.
Golf.com's Dylan Dethier talks to pro Kyle Thompson about the frightful experience.
"We were in our room and could hear the wind ripping," Thompson told GOLF.com. "Also faintly smelled smoke, the power flickered and I heard some yelling outside the room so I went to check. I saw the entire horizon of the mountains on fire and the wind was pumping from that direction.
"I sprinted back to the room," Thompson continued, "and grabbed my 1-year-old from his crib."
Thompson was still in the area Monday afternoon, wondering whether to fly home or if there was hope of collecting the possessions that he had left in his room upon evacuation.
Silverado was closed Monday to all except emergency personnel. "Currently, the resort structures are intact," wrote the resort's Twitter account, although it also wrote that there were "no updates at this time." According to the Associated Press, the fires had destroyed at least 1,500 homes and forced tens of thousands out of their houses as of midday Monday.