2018 Hill Country Passbook
The 2018 Hill Country AVIDGOLFER Passbook is now available for purchase!!!
Play 28 rounds of golf in the Hill Country, including new courses in San Antonio! Passbooks are valid until Dec. 31, 2018, but are good for redemption TODAY! Order your passbook to enjoy great golf courses at a fantastic price! Passbooks begin shipping week of March 12, 2018.
The price is $39.95 + $9.95 S&H for the passbook and 2 dozen golf balls.
To order by phone please call 972-550-9000 Monday through Friday between 9AM – 5PM CT.
The 2018 package includes the Passbook + TWO DOZEN SRIXON SOFT-FEEL GOLF BALLS!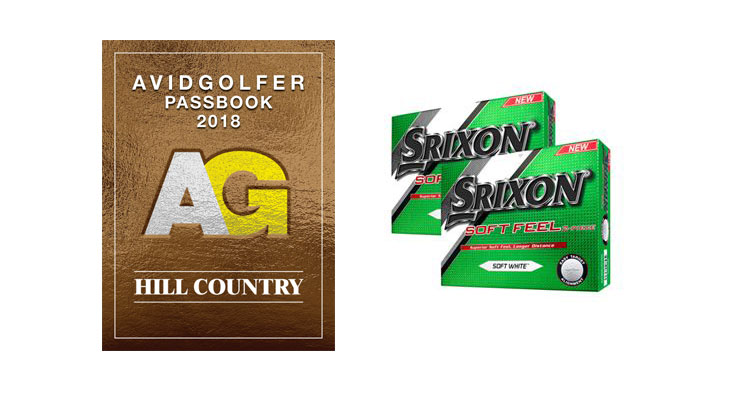 Debuting at the special price of $39.95 + $9.95 S&H!
27 ROUNDS OF GOLF! Including Multiple New Courses in San Antonio! See the full list of restrictions here.
*Rounds with denotation include weekend availability
The Bandit
Bluebonnet Hill
Buckhorn
Canyon Springs
ColoVista
Cowan Creek
Crystal Falls
Delaware Springs
Falconhead
Forest Creek
Grey Rock
Hidden Falls
Jimmy Clay
Lago Vista
Landa Park
Legacy Hills
Lions Municipal
Morris Williams
Pine Forest
Point Venture
The Quarry
The Republic
Roy Kizer
Star Ranch
Silverhorn
Vaaler Creek
White Wing
Wolfdancer
Passbooks begin shipping week of March 12, 2018.
*Restrictions vary. Cart fee required on all rounds. View full list of course availability and restrictions here. Rounds of golf valid days and times as stated on coupon. Must inform course of coupon use when making tee time and must present coupon to course at time of check in. Failure to do so will result in full price charge of round.
**Please allow up to 10 business days for delivery**