Tiger Woods' Return to Glory
Tiger Woods brought out the kid in all of us with his Final Round Performance at the 100th PGA Championship.
I guess you could say that I am what they would call a "millennial". I am only 25, but in my quarter of a century on this earth I have been fortunate enough to witness some of the most iconic moments in golf history. Yesterday at Bellerive was no different to that narrative.
Like many other people my age, I grew up idolizing and emulating Tiger Woods. I can still remember practicing my fist pumps in the mirror and on the course after draining putts, and wearing a red polo with a Nike golf hat when I played because that's what Tiger did. Hell, I even had a Tiger's head driver cover, much to my fathers reluctance (we are both Alabama graduates).
I can still remember like it was yesterday the 2005 Masters Tournament Final Round in which he went head to head with Chris DiMarco in an epic battle. It was a two man race all day, the next closest golfer was Luke Donald who finished 7 strokes back when it was all said and done. I remember sitting on the couch with my father rooting relentlessly for Tiger. I remember the par 3 16th when 'That Chip' happened. I remember Tiger hit his tee shot left of the green into the 2nd cut. Tiger was -13 at the time with a one stroke lead, I remember Verne Lundquist was on the call and as Tiger's shot hung on the rim of the cup Tiger walked closer and closer as if he was leading it into the hole, after a dramatic pause typically only reserved for Hollywood the ball fell over the edge and the gallery erupted to a decibel level that I don't think will ever matched at Augusta National.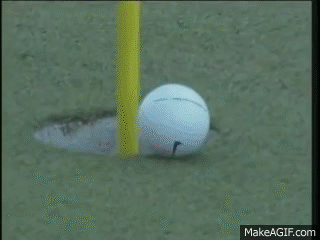 Verne's words still ring in my head whenever I think back to that shot, "In your LIFE have you seen anything like that?!?" and the answer is the same now as it was 13 years ago, no.
Tiger would go on to bogey the 17th & 18th hole, and go into a sudden-death playoff with DiMarco where he drained a 15 foot birdie putt to secure his fourth green jacket, and ninth major. You can watch the The 2005 Masters Tournament Final Round in it's entirety here, I highly reccomend it.
Tiger's Fall From Grace
As we all know, it has been a decade since Tiger Woods has won a Major Championship. Throughout the past decade he has gone through more trials and tribulations than most men do in a lifetime. Now with that being said, most of it was due to his own personal issues that were aired for the entire world to see. But nevertheless, I can still remember 2009 the day after Thanksgiving, driving back to Tuscaloosa, Alabama, from trying to get home before the Iron Bowl began to ensure that I would be able to see Alabama beat Auburn (we did).
But on that drive, I remember ESPN Radio cutting from the 11am game being broadcasted to inform the public that Tiger Woods had been involved in a car accident outside of his home in Florida. I remember thinking how strange that was, and I can remember that the situation was to be updated as more details emerged. This news was huge, I can remember watching the Iron Bowl with Verne Lundquist and Gary Danielson on the call, giving updates to any news about Tiger Woods as they emerged. Long story short the news that came in the following weeks crushed me.
As I said earlier, growing up Tiger was bigger than life, he was an immortal figure amongst men on the course. To me and all of my friends growing up, he was our Superman. When you think of superheroes, you think that they are the cliché model citizen, never doing anything wrong and being invincible. So to find out, even at 16 years old that the guy you grew up idolizing isn't the same person you thought he was, is still a tough blow. I will admit, I was so crushed to find out all of these hidden details that were emerging in his life that I didn't see him in the same light I used to. But as they say time heals all wounds, and although I was not directly affected by his actions I still felt betrayed. I will admit that it definitely took some time for me to get around to appreciating Tiger as much as I did growing up. Again, time heals all wounds.
I have seen over the past decade a man who has been at the pinnacle of the sport world go from the high of being THE guy, to being the lowest of lows in not only his life, but his playing career. Tiger lost multiple endorsements when the news of his scandals broke out, and he also had to deal with his personal matters being aired out to the world. Tiger also had to deal with a new swing, multiple back surgeries, a new caddie, and the weight of not letting his fans down like he did almost a decade ago.
Vintage Tiger at the PGA Championship at Bellerive
Fast forward to this weekend at Bellerive Country Club in St. Louis. It is the 100th PGA Championship and Tiger is coming off of a very strong weekend outing at The Open, where he even lead on the back 9 on Sunday before eventually losing to Francesco Molinari.
Tiger had a poor start to his PGA Championship, but was able to recover and actually go into Sunday's Final round at -8 tying him for fourth place and in the second to last pairing. Tiger was paired with Gary Woodland, with whom he teed off just in front of eventual Champion Brooks Koepka, and Adam Scott.
What we saw yesterday from Tiger Woods was vintage Tiger that for me, and many others brought back that feeling we felt as a kid watching him. Pure Nostalgia. Tiger was on fire from beginning to end, even if it did take him until the 10th hole to hit a fairway off the tee box. Tiger opened up with a par that very easily should have gone in for birdie and followed that with a birdie at no. 2 to get to -9. His tee shot on the par-3 3rd was a dart that was pin seeking from the start. Tiger almost put his shot in from the air and ended up landing within 2 feet of the pin. At that moment Tiger moved to -10 . Everyone at home, and on the course knew what was happening. Tiger was officially dialed in. You can watch Tiger's Birdie on No. 3 here.
Tiger went on to par No.'s 4 & 5 where like the rest of the front-9, he failed to hit a single fairway. A bogey on No. 6 set him back to -9 on the tournament, but 2 birdies to end the front-9, including a highlight reel recovery on No. 9 gave him some added momentum into the turn. Like I said, The Tiger Woods that we saw on Sunday was the one that made it feel like 2005 all over again, and I was enjoying every minute of it.
Tiger stayed hot on the back 9 by actually hitting the fairway on No.'s 10 & 11 and missed a birdie putt on the 11th that was eerily similar to his iconic shot on the 16th at the 2005 Masters. I mean seriously, that ball was half a rotation from being a Bridgestone Golf commercial that we would have been seeing on TV for the next decade.
— PGA Championship (@PGAChampionship) August 12, 2018
Following his near birdie on 11, Tiger went on to actually birdie the 12th & 13th which put him within one of Brooks Koepka. Tiger had a blunder on the 14th that cost him a bogey and knocked him back to -12. But in classic Tiger form he bounced back for a quick birdie on 15 and saved par on No.'s 16 & 17. No. 17 ended up being a very impressive save as his tee shot almost ended up in the creek. The 18th was the most impressive as Tiger drained a 15 foot putt to birdie the final hole, and secure his position on the leaderboard at 2nd place. Tiger was met with roars following his birdie putt that were immensely louder than when Brooks Koepka finished his Championship winning round only a few minutes later.
There's nothing quite like a Tiger fist pump. pic.twitter.com/MEHWX5y0j7

— PGA Championship (@PGAChampionship) August 13, 2018
Sunday was a vintage Tiger Woods performance, and although he didn't win the PGA Championship it was still a performance that golf fans will talk about for a very long time. Aside from changing shirts what seemed like every 3 holes, Tiger showed heart and grit to come back and show us that the Tiger mentality is still within him. As fun as it was for us to watch, it also proved to Tiger Woods himself that "Hey, I still got it".
Tiger's Nostalgic Effect
I have heard people mention at times that they don't quite understand why Tiger still has such an appeal to the masses, and to them I say the answer is simple. Tiger may have not been the dominant force that he was over the past decade, but Tiger Woods is symbolic to golfers young and old. People who are my father's age have an attachment to Tiger because of who he was 10 years ago. This is largely due to the fact that like him they aren't as youthful as they used to be, but hey, they still have it. Not to mention Tiger is still out there on the course going after it week in and week out showing the young guns like Justin Thomas, Jordan Spieth, Dustin Johnson, Rory McIlroy, and Brooks Koepka that he can still make shots that no one else can even come close to. Seriously, watch his final round at the PGA Championship, no one else in golf can make the shots or pin seek quite like Tiger. Nick Faldo went as far as to call him Houdini yesterday because the caliber of the shots Tiger was hitting were nearly impossible.
People my age live for Sundays in which they can watch Tiger Woods show his dominance on the course. Tiger roaring up a leaderboard on Sunday's brings back all of our fondest childhood memories. Tiger Woods in contention on Sunday meant sitting on the couch with our dad's watching him compete tournament after tournament as a relentless force on the course. Everyone knew that if Tiger was in contention on Sunday, any thing he does you will be hearing it from 9 holes away so you better not make too many mistakes.
For me, it brings back all of those vivid memories from my childhood. It brings back all of the times I threw up the fist pump, all of the times that I would do his iconic club twirl after a great shot, all of the times I begged my parents for whatever new outfit Tiger was wearing that weekend. But most importantly, how I wanted to be just like Tiger.
Although Tiger did not win The Open or The PGA Championship, he showed us that he is more than capable of doing so. For a guy that has always hated to finish in 2nd place, considering the fact that this time last year he wasn't sure if he would ever be able to contend again, I think he will take it.
The Masters is in 8 months, and the Major Tournament venues for 2019 are stacked next with Augusta National, Bethpage Black, Pebble Beach, and Royal Portrush. Don't be surprised if Tiger is in contention for all 4 of these Major Tournament's, and don't be surprised if he even wins one or two of them.
In the meantime, thank you for the performance Tiger. We can't wait to see you at Augusta National.