Self-Deprecating Max Homa Earns One Of The More Popular 1st Time PGA Tour Wins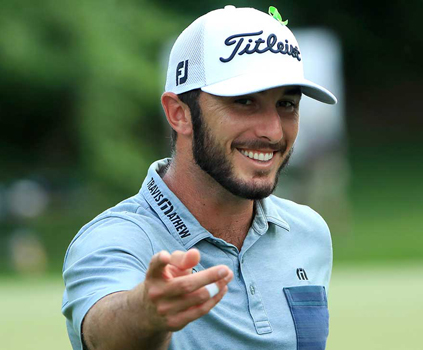 The humor-injected Tour player Max Homa overcame much to finally secure his maiden PGA Tour win yesterday at the Wells Fargo Championship. The one-time University of California stud (winnin the 2013 NCAA Individual crown ) faced some trying times as a pro. But through it all, he was refreshingly honest and funny about those challenges.
In case you needed a rooting interest today, here's Max Homa with one of the greatest 4 minutes in our podcast history. Missed 15 of 17 cuts in 2017, but kept saying "today's the day." https://t.co/Rj3wG7Njh6 pic.twitter.com/LPUijqh1Fw

— No Laying Up (@NoLayingUp) May 5, 2019
I liken him to CBS's Gary McCord or NBC/GolfChannel's David Feherty who jumped over the canyon from player to engaging commentator. His Twitter feed is a worthy follow too.
Crazy stat of the day (maybe, idk): this is the first season since I've been a professional golfer that Tiger the goat has finished the year with more fedex cup points than me

— max homa (@maxhoma23) September 26, 2018
Contrary to popular belief, golfers fist fighting on national tv for the world to see would NOT be good for our street cred. Tiger somehow got people to believe we're real athletes, let's not ruin all his hard work

— max homa (@maxhoma23) March 30, 2019
I don't use a green reading book because if I did, I wouldn't be able to blame my caddy when I missed

— max homa (@maxhoma23) October 16, 2018
GolfDigest's Brian Wacker delivers the heartwarming victory details.
After play had been suspended for 62 minutes because of lightning in the area and a heavy downpour, he made another clutch putt, this time a nervy downhill six-footer to save par at No. 14.
"I knew in the back of my mind that I make that putt, I win this golf tournament," said Homa, who made five birdies and just one bogey en route to a 67 and a three-shot victory over Dahmen at Quail Hollow after shooting a 15-under 269 on the week. "I putted awesome this whole week, and I stood up on that putt and we had a great read, and it was great to see it go in because that's kind of when I think I knew my golf game was good enough to do this."
'I used to say when I hit rock bottom I found a shovel and kept digging. I went to some low places.'
Just over eight months ago, Homa was ranked 1,282nd in the world. Coming into this week, he was still outside the top 400.
He'll get to tee it up at Augusta National next year. So, how does he predict that'll go?
I don't think I'd be nervous on the first tee at my first Masters. It's always been a dream of mine to play that tournament. I'd jump right past nervous and skip straight to violently ill, unfit to be in public

— max homa (@maxhoma23) April 10, 2019

How could you not love this guy?
Airplane middle seat: the most consistent missed cut punishment

— max homa (@maxhoma23) June 2, 2018