Tour Pro Lucas Glover's Wife Assaults Him After Missing Players Cut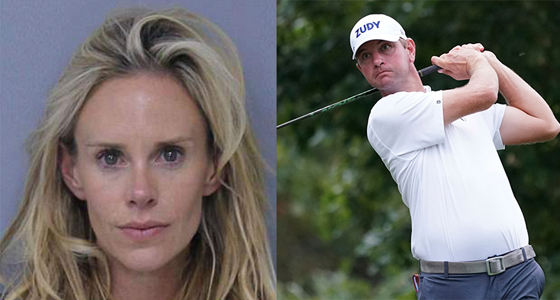 2009 U.S. Open champion Lucas Glover was attacked by his wife Krista after becoming irate over him missing THE PLAYERS'S cut Saturday night.
Deadspin's Patrick Redford has the horribly sad details. Be sure to read the entire piece along with the police reports. Its apparent she isn't playing with a full bag of sanity.
She was charged with domestic battery and resisting an officer after she apparently struck Lucas and his mother, Hershey Hendley, according to the St. John's Sheriff's Office. Inmate records from the sheriff's office show that Krista was released Sunday morning after posting bond.
According to the arrest report, Krista became angry with Lucas after his bad round, and Lucas told deputies that "every time he plays poorly in a tournament, Krista begins yelling at him, stating he is a 'loser' and 'p—y' and ultimately starting an altercation with him about his performance." He also told deputies, per the report, that she regularly yelled at him about "how he needs to fire everyone, and how he better win or her and the kids would leave him and he would never see their kids again." Lucas told deputies that his wife "had been drinking throughout the day" and that he got her to cool off in front of their two kids.
However, after they went to bed, Krista apparently "forcefully attacked him." When Hendley tried to intervene, the report Krista says then turned her attention on her, hitting Hendley. According to the arrest report, Hendley was left with cuts on both of her arms and was also struck in the chest multiple times. Lucas told deputies that he was "tired of the altercations" and "Krista always acting the way she does," according to the report.
She then continued losing her mind while in the back of the police car.

There's all types of abuse suffered by unfortunate victims. Its an especially tricky situation when the supposed "stronger" sex is the recipient, as what guy wants to admit his wife/girlfriend is beating him up?
What adds to the alarming story is that Glover has made 14 of 16 cuts (including Saturday's MDF) this year with four top-25s. Its not like he's suffering a bunch of trunk slams. But crazy is as crazy does. Hope they get it straightened out while Lucas keeps her at a safe distance.