35th Seeded Bubba Watson Takes The WGC Dell Match Play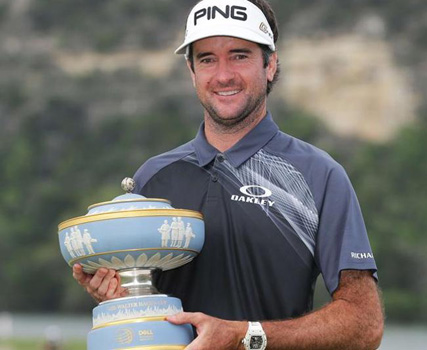 Don't look now, but Bubba Watson has to be one of the favorites to win the Masters in two weeks. Not only is he a two-time Green Jacket owner, but he cut thru the WGC Dell Match Play field by barely breaking a sweat–especially in the final match vs. Kevin Kisner.
What's more interesting is where Watson was merely a year ago. His play was so affected by an undisclosed illness that he intimated retiring. That is until he won the Genesis Open (and thereby qualifying for the Dell Match Play field) and now has two significant wins heading to Augusta. Watson even had to postpone a scheduled vacation since he thought there were no worries of him advancing so far in the matches.
PGATour.com's Mike McCallister has the details on a surprisingly successful week for Bubba.
Watson became only the fifth player to win multiple WGC events and multiple majors.
On Sunday, it was another emotional celebration, one that moved him into fourth in the FedExCup standings. His 11th TOUR win – and his second in his last four starts, having won the Genesis Open last month – isn't a nice round number, but it was accomplished in front of his mother, Molly.
Just a few years ago, not too long after Watson won his second Masters title, Molly chastised her son for not smiling enough and appearing too angry in public. There were plenty of smiles to go around Sunday after Watson closed out Kisner with a birdie at the par-5 12th. Molly also gave her son a hug.
Cue the celebratory Watson sobbing.
"You're really good at this game," she said as Bubba began sobbing.
"Without you, I'm not," her son replied.
This week, he picked up his first Dell Technologies Match Play win. It's not a format he particularly enjoys – he's more of a stroke-play guy — but it's a big statement in his bid to earn a spot on this year's Ryder Cup team. He doesn't mind being a vice-captain, like he was two years ago, but he'd rather go to Paris as a player.
"I hope Jim Furyk is watching," he said of the U.S. captain, "because I really want to play in France."
Bubba from Bagdad is growing up. He wants to win trophies and make the world a better place. At age 39, he's clear-eyed, motivated and in great form – and in a great state of mind. Those dreams as a kid keep becoming realities.
"It's overwhelming," he said. "I can't make that into a real story. I should write a book."
"It would be a phenomenal book."