After 9 Years And 4 Major Wins, Rory McIlroy Splits With Caddie JP Fitzgerald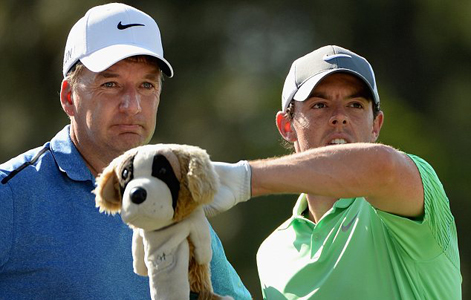 Rory McIlroy won his 4th major in 2014. But unless he takes next month's PGA Championship, it'll also be his last one over a three-year drought. That goose egg can be attributed to several reasons. 1) Too much heavy lifting in the gym. 2) A balky putter. 3) He needs soft and calm conditions. 4) Too much pressure with his Nike agreement. 5) Too much Twitter bantering. 6) Too much pressure period. 6) All the above.
When things go south, there isn't much a golfer can do to reboot. Yes, he can fire his swing coach. Or give his caddie walking papers.
JP Fitzgerald was on Rory's bag for nine years, 4 major wins, a #1 World Ranking and taking the FedEx Cup crown just last season.
Fitzgerald's sacking, which McIlroy is expected to confirm on his arrival at Firestone Country Club in Akron, Ohio, comes barely a week after he publicly thanked his bagman for jolting him into gear when he made a poor start to the British Open.
McIlroy, who won his last major at the 2014 U.S. PGA Championship, employed Fitzgerald in 2008 shortly after turning professional.
"He has taken me from 200 in the world to major champion," McIlroy said of Fitzgerald in 2011.
At the British Open at Royal Birkdale earlier this month, McIlroy again heaped praise on Fitzgerald, who delivered some blunt words to his boss after the Northern Irishman started the tournament with a string of bogeys (You're Rory McIlroy, what the f— are you doing?' I said, 'Yeah'. At that point I mumbled and said, 'Whatever.').
After fighting back to shoot one-over 71 in the first round, McIlroy told reporters that Fitzgerald had done a "great job."
GolfDigest's Sam Weinman offers this insight of what may have been the catalyst when handicapping last April's Masters…
"How often do you see him and [caddie J.P. Fitzgerald] looking at each other in shock after his ball has finished 20 yards over the back?," the story quotes an observer saying. "If you listen to them on the course, you often hear Rory asking, 'What happened there?' More than once I've heard J.P. saying something like, 'OK, hit a soft draw with a 6-iron off that tree.' And I've immediately thought, This ball is going over the green. And sure enough, it does. So you have to wonder. I see Rory up close only occasionally, and I know he's going to hit the ball over the green when his caddie clearly doesn't. It makes no sense.
"Rory needs someone to tell him what he needs to hear, not what he wants to hear." . . . "Why he doesn't employ Billy Foster is a mystery. Rory would have 10 majors by now if he did." Who's caddied for Sergio Garcia, Lee Westwood and Seve Ballesteros.
"Of course, we know what Rory is like. He's as stubborn as anyone on tour. The more people tell him that J.P. is not the right caddie for him, the more he'll keep him on."
Guess not…
The large line of prospective caddies begins on the left. I doubt Phil Mickelson's ex-looper Jim "Bones" Mackay takes it. He signed a nice broadcasting agreement with NBC/GolfChannel and appears enjoying not schlepping 60 lb. bags around the course. There's Adam Scott's current major-only caddie Stevie Williams but who knows if he wants to loop that often. There's also the always highly regarded Joe LaCava who hasn't done squat since Tiger Woods went on the DL. But for some reason, Woods keeps him icing him from grabbing another bag–at least until Tiger's very iffy return to competition.
In fact, if I'm Nike (who pays big $$$$$$$$ to both McIlroy and Woods), I'd strongly ask Tiger to remove the chains on LaCava and loan him out to Rory.
Otherwise, there's also the split between the PGA and European Tours–meaning it'll probably be a caddie who resides across the pond. Look for McIlroy to employ someone as an interim this week at Firestone CC before auditioning more until one finally sticks.