Alex Cejka Is Laughably DQ'd For Violating Greens-Reading Regulation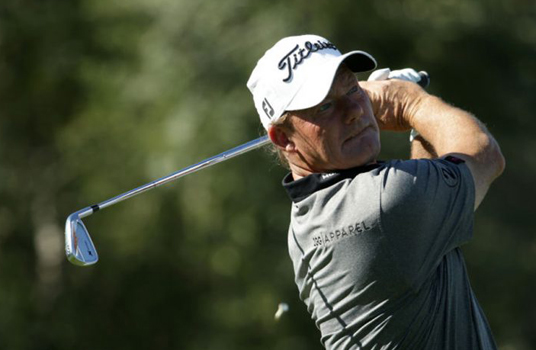 Alex Cejka is the latest Tour player to suffer from apparent confusion of the new golf rules. He was cited for using the now prohibited greens-reading violations with excessive diagrams in a yardage book.
But that's not the story.
What's downright laughable is Cejka was using an old info yardage book from back before the new greens were installed! Meaning, not only was it wasted time, the info was completely worthless as well. Golf.com's Pat Ralph reports.
Cejka's disqualification, which came after he had already played 14 holes of golf on Thursday, was a result of him using "greens-reading materials that did not fit the new scale" permitted by the new Rules of Golf, according to PGA Tour rules officials.
The new rule of limiting the usage of greens-reading materials on the course was made with the USGA's belief that "the ability of golfers to read greens using their own judgment is an essential skill that should be maintained," and the interpretation "limits the size and scale of detailed putting-green maps and any similar electronic or digital materials that a player may use during a round to assist with reading his or her line of play on the putting green."
Of course, Tweeters couldn't help themselves and piled on–rather quickly.
So Alex Cejka is DQed using and old greens book on brand new greens????? #wow

— Mark Calcavecchia (@MarkCalc) February 28, 2019
This is the first time since I started in the business (1987), that I've disagreed with the direction the R&A and USGA have gone. Some of these rules changes and enforcements border on ridiculous .

— Gary Gentile, PGA (@GaryGentilePGA) February 28, 2019
Alex Cejka first player DQ'd over new rules on green-reading book. His playing partner: "I was perplexed. That doesn't look right. Did I really see that?" https://t.co/H4UnW4mQzZ

— Brian Wacker (@brianwacker1) March 1, 2019
Cejka's playing partner Cameron Tringale blew the whistle as Brian Wacker reports.
The matter was brought to officials' attention when playing partner Cameron Tringale noticed that Cejka was using an old book as he walked past him as Cejka lined up a putt on the 10th green and was studying the material in the book.
"I saw it and told my caddie," Tringale said. "I mentioned it to [Cejka] but was unfamiliar how exactly to proceed. I told the first official I saw what I had seen."
Shelton approached Cejka on the 13th hole, studied the material and made the ruling.
Ironically, PGA National's greens had been re-done from a year ago.
"I was perplexed," Tringale said of noticing the book. "That doesn't look right. Did I really see that?
"When we finished the 14th hole, I went to use the bathroom and when I came out I saw [Cejka] riding off in a cart."
Updated list of every event Alex Cejka has been DQ'd from: Honda Classic, Sanderson Farms, Houston Open, The Memorial, John Deere, St Jude, MCI Heritage, Heineken Classic, German Masters. What a career

— Taco DFS (@tacoDFS) February 28, 2019
And so it goes–again. Golf just can't get out of its own way lately.