"Intimidating" Amateur Golfer Might Sue After Forced WD From Tournament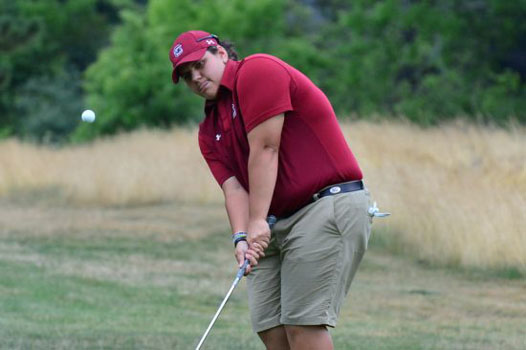 Marianna Monaco is a New York amateur golfer who posted that she was "forced" to WD from a tournament because she's "intimidating." Huh?
Its a long sorted story with two differing accounts on the reasons to embargo her. Of course, Monaco is contemplating legal action as GolfDigest's Alex Myers reports.
On July 24, Marianna signed a letter stating her withdrawal from the WMGA Stroke Play Championship ahead of the final round and ending her membership in the organization. And on July 26, Monaco shared on Facebook that letter she says she was forced to sign:
According to the 23-year-old Monaco, she was told the WMGA was "intimidated" and "threatened" by her presence at the event in which she was in second place following a first-round 78 at Long Island's North Shore Country Club. Monaco told The Journal News this happened after she hit a ball farther than the driving range's 180-yard limit and into a public area. Monaco says she only hit one such ball after being told by a North Shore Country Club employee to stop.
The WMGA, however, took the matter more seriously and factored in past "problems" it's had with the Yonkers native. Here's the WMGA's statement on the matter:
"When conducting our tournaments, we require tournament participants to abide by the rules of those host clubs. When, as was the case with Ms. Monaco at a recent event, a tournament participant flagrantly violates the rules of a host club, the WMGA takes action to prevent additional violations.
"At the event, Ms. Monaco intentionally hit golf balls at the driving range beyond the yardage limits set by the club (beyond those limits is an inhabited public area). Ms. Monaco was requested by the host club to stop her conduct and to conform to their rules. The WMGA reiterated the host club's request, yet for reasons we cannot comprehend, Ms. Monaco continued to violate the rules and hit balls into the public area.
"It was not the first time the WMGA has had issues with Ms. Monaco violating host club policies. Based on her history of inappropriate conduct, the WMGA asked Ms. Monaco to withdraw from the tournament and the WMGA."
Oddly enough, Monaco, a past New York State amateur champ who played collegiately at the University of South Carolina, previously interned at the WMGA. But now she's considering taking legal action against the organization.

The first problem I see is having a practice range only 180-yards deep. Meanwhile, it'll be interesting if Monaco follows thru on the legal threat.