Why Arnie's Event Isn't A Favorite Venue For Caddies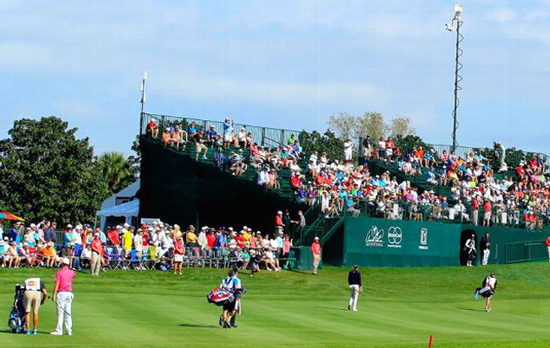 ESPN's Michael Collins worked the Tour as a caddie before morphing into a commentator. One of his bits is interviewing Tour caddies while protecting them with anonymity. His latest interviewee's blunt assessment of the Arnold Palmer Invitational is hardly kind–which is surprising given The King's reputation as a class act who treated everyone with equal respect.
Collins: What's the talk around the caddie tent about the field and the players who chose not to show up?
Caddie: I really think they don't care, to be honest. … I personally think it's not a good golf course. If it was me, I'd have a week off. That's just my opinion.
Collins: That's funny, because when you asked many players and caddies away from the cameras and recording devices about the Florida Swing, a lot of them say Bay Hill is the worst course in the rotation. Why?
Caddie: Because of the condition of the course. The greens are normally terrible, and it just comes in a bad spot (on the schedule) for these high-end golfers who have to play "the other tour," as they call it (the WGC events).
Collins: Give me one good thing about the Arnold Palmer Invitational for the caddies.
Caddie: For the caddies? Oof. I don't think that there's any. Maybe the prize money (laughing)?
Collins: That's the irony. As revered as Mr. Palmer is in the golf world, this tournament is not high on the "caddie favorite" list.
Caddie: No. It's nearly one of the worst all around. But it's slowly improving. But, yeah, if it wasn't for the prize money, and we didn't have to go, we probably wouldn't.