Arizona's Haley Moore Has Last Laugh Dealing With Cruel Adversity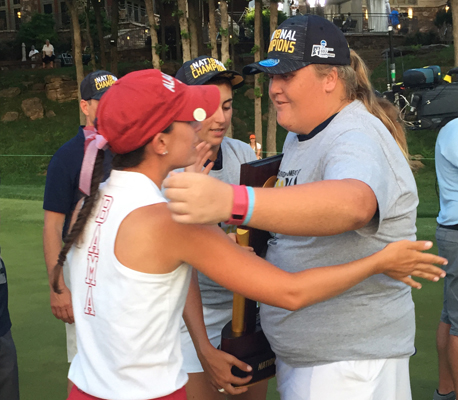 University of Arizona's Haley Moore was the hero at the Women's NCAA Championship by beating Alabama's Lakareber Abe in a playoff to crown the Wildcats. It was a heartwarming moment for Moore who has endured much due to her plus size.
GolfWeek's Beth Ann Nichols writes a fantastic piece on what Moore has dealt with and how classy she is facing and overcoming cruel society stupidity.
On the 18th green at Karsten Creek, a foursome of shrieking teammates threw their arms around Haley in a moment of sheer adulation. She was the hero. The Cinderella of the first eighth-seeded team to win the NCAA title. The player Arizona coaches put in the anchor match to bring home the hardware. Haley poured in the clinching putt, jumped with glee and then burst into tears.
It was a real-life fairy-tale finish for the ages.
"I'm just shocked, amazed," said Haley, who drained a 4-foot birdie putt on the 19th hole to defeat No. 1-ranked Alabama. "… very emotional just because I gave my team a national championship. It was all on the line for me."
The first time Arizona associate head coach Derek Radley saw Haley hit a golf shot was off the cart path at Reunion Resort. The high school freshman hit a low-draw 6-iron to the middle of the green. Radley was immediately hooked.
"I saw a kid young and full of talent, not really sure of herself," said Radley. "Man, if we could get her into our program and just pump her full of confidence, sky's the limit."
There are a number of pictures on Coach Ianello's office desk back in Arizona from her high school days.
"I don't know if you know this about me," she said, "but when I was in high school, I weighed 205 pounds. I was like a men's size 38."
Arizona players respect Haley for her strong work ethic, her immense talent and her team-first mentality.
"You just practice, and practice and practice," said Haley with a smile, "and it all pays off."