Arnold Palmer May Have Lessened Roles At Bay Hill And Augusta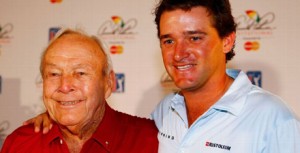 Arnold Palmer is 86. And while we always thought of him as immortal, Father Time has a way of sadly reminding us our heroes at some point wind down. ESPN's Jason Sobel writes that Arnie's grandson Sam Saunders believes Palmer will take a diminished role at his Bay Hill Invitational and at the Masters.
Does this mean Arnie will no longer be part of the honorary starter ceremony at Augusta (since 2007)?
"It's a very busy week; there's a lot of stuff going on," said his grandson Sam Saunders. "It's tiring for me and I'm 28 years old. At 86, he's doing OK, but I think his availability to get out and be on the course and be seen as much will be limited. But I know he'll still have a huge role."
For years, Palmer has hosted a Wednesday pre-tournament news conference with the assembled media at Bay Hill, site of his Arnold Palmer Invitational. That won't happen next week, replaced instead by a private question-and-answer session that won't be in front of any cameras.
I know he's still going to be around; he's still going to be out there," Saunders said. "I know all the guys want to see him and he'll want to see all the guys, so hopefully he'll be feeling good and will be able to come out and play a pretty big role."
"He's doing OK. I don't think his liveliness is quite there like it has been, but I think that's pretty common for the age. As he says, getting old is tough. I've seen it in him; I've seen it in my other grandfather. Aging is tough and over the past couple of years, everything is exacerbated a little bit. But he's tough.
"The one thing that will never go away is his toughness. He's not just going to lay down and not do anything. He'll be active and he'll still be out there trying to push it. I wouldn't expect anything less from him."
"I know he's planning on going," Saunders said of Palmer's Masters plan. "Whether he hits a tee shot, I don't know. But I think just having him standing there would be good. Being part of that is so special to him. Those are the things that if he's having a bad day and he gets to do something like that, it certainly gets his spirits going and he feels better. I think it has a huge influence on the way he feels and the way he interacts. I hope he's at Augusta and I sure think he will be."