When The Art Of Conceding/Not Conceding A Putt Goes Awry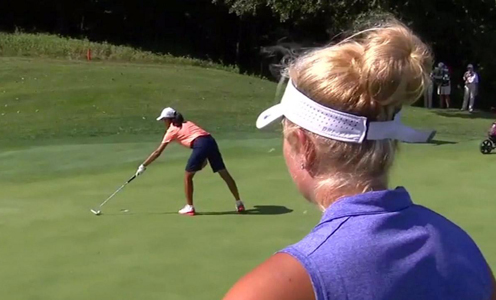 Match play has its own special rules. One in particular is conceding a putt to your opponent. Some do so regularly–or at least early–before refusing later in the match to hopefully shake up the opponent.
But the cardinal rule is always assume you have to make the putt until you actually hear the concession. That became the focus of controversy during the U.S. Girls Junior Championship semi-final between Erica Shepherd and Elizabeth Moon on the first playoff hole. Moon missed a birdie putt to win the match and absentmindedly raked the putt back to try again without waiting for Shepherd to concede the 4″ comebacker.
Cue the social media mayhem.
This is disgusting. Match ends on 4 inch putt not officially conceded. Completely against the spirit of the game. https://t.co/4TgNqgtccJ

— No Laying Up (@NoLayingUp) July 29, 2017
Jeff Ritter, GOLF.com: Shepherd was absolutely caught up in the heat of competition when she blurted that she hadn't conceded that putt. And shortly thereafter she felt guilty and tried to convince the official to back off. A very tough situation, especially for young players. Shepherd no doubt learned to stay alert when your opponent is putting, and Moon probably won't rake away another putt for the rest of her life. I feel bad for both of them. It wasn't a great look for golf, either.
Josh Berhow, GOLF.com: Caught up in the moment is the perfect way to describe it. Shepherd obviously said what first came to mind and didn't realize her words were about to carry huge weight. I don't think for a second that as soon as she saw her rake the ball she thought, "Got ya!" It's just an unfortunate learning process. But Shepherd shouldn't also be looked at as the villain in all of this. Her playing partner's error put her in a tough spot and she reacted the same way 9 out of 10 other golfers in that tournament would have.
John Wood, caddie for Matt Kuchar: Not having seen it live, I'll trust it happened just as Jeff said, and I'll agree that he nailed it. I know there are strict rules regarding concessions in match play, but I'm wondering if the official could have retroactively accepted the concession and let the match continue. A tough if not impossible situation for both players and the official involved. We had an incident at the last Ryder Cup at Hazeltine where a caddie tried to concede a putt to a player on the opposing team (caddies cannot concede putts). Luckily the player asked the opposing team before picking up the putt, which was not conceded by the other player. With what went on at the last Solheim Cup, it's so important for both sides to be absolutely clear with any concession given or received.
And what is a normal conceding putt?
Wood: If you have to wonder, it's not a gimme. There is no hard and fast rule. A dead straight three footer on perfect greens would be much preferable to, say, a 14 incher on late in the day poa annua or spiked up greens. There is so much more involved than length. Conditions, break of putt, the moment … all contribute to whether a putt is good or not.
More amazing is Shepherd went on to win the final with all that bad juju hoisted upon her.
Anyway, when in a match play event, always assume you have to make a putt. Its a bonus if your opponent concedes, but never count on the generosity.