Daniel Berger On Why He Rarely Watches Golf On TV And Deletes Most Of His Tweets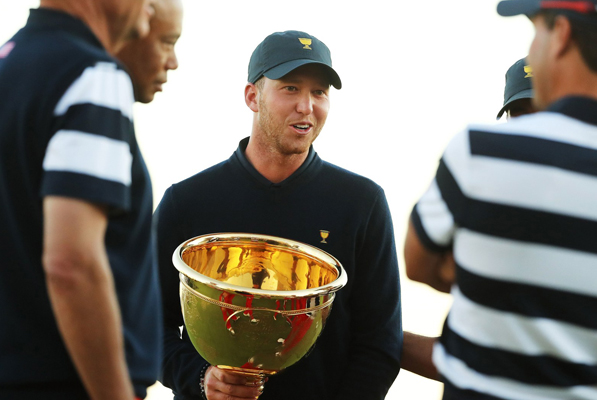 Daniel Berger is one of the PGA Tour's new young guns. His somewhat unorthodox swing has delivered two Tour wins and a winning President's Cup. He's also refreshingly honest like many of his young peers with some surprising ideas on chilling out, not watching golf on TV and why Phil Mickelson got in his grill.
Berger sat down with GolfWorld.com's Guy Yocum for an excellent My Shot column that's worth your time to read from start to finish.
I LOVE GOLF as much or more than anybody, but I never watch it on TV except out of the corner of my eye. Not one round of the Masters, or even an episode of "Golf Central." I've never seen the Feherty show. If I've watched a couple of hours of golf, total, I'd be surprised. I did watch a few highlights of Justin Thomas winning the PGA Championship last year, because he's a buddy, and I was curious how he did it. But that's about it. I follow golf through Twitter, Instagram and the PGA Tour app. I'm very weak on golf history, because you pick up a lot of that on TV. I know Jack Nicklaus has 18 majors, and that Tiger has 14, but I have no idea who's third. I'm not trying to shock you. It's just how it is.
AM I THE ONLY ONE who erases nine out of 10 tweets before hitting the send button? A couple of years ago, I used to lob tweets at my buddies in the golf and tennis world. Nothing too controversial, but little digs that probably would have made them laugh if I said them in person. But seeing how the comments looked online made me worry if people thought I was making fun of them. It made me a lot more cautious. Most of my tweets these days @danielberger59 don't make the cut.
MY TWO PGA TOUR WINS were back-to-back at the FedEx St. Jude Classic, in 2016 and '17. You hear about horses for courses, but I swear that isn't the case for me. St. Jude is at TPC Southwind, a course I like a lot but don't love as much as others. It's not tailored for my game exactly. Other TPC courses suit me better—TPC River Highlands and TPC Louisiana come to mind. So again, it comes down to timing. It's played the week before the U.S. Open, which is a good time to be peaking.
MUSIC IS HUGE among players on the PGA Tour. The younger guys especially. One guy I really like is Justin Bieber. I'm not a die-hard fan or anything and probably have only five songs of his in my library, but I like his music. I respect how he's evolved since his teen-heartthrob days, how his music has gotten better. I like the sheer fact he's created something that other people enjoy. At the PGA Championship last year, I got out of my courtesy car, and there he was, hanging out. I've been fortunate to meet a lot of influential people, but this was a notch above. It was like, Holy crap, it's Justin Bieber!
WHAT'S A TOUGH COMPETITOR, if not one who wants to bury you? On the second hole of my match against Phil Mickelson at the 2016 WGC-Match Play, Phil had a one-foot putt for a halve. I didn't give it to him. It was no big deal; I just wanted him to putt it. He knocked it in. A couple of holes later, Phil sidled up to me. He said, "So how about that putt on No. 2?" I started to feel a little sheepish, because Phil's a veteran and I respect him. I said, "Well, I'm sorry about that. I was just …" Before I could finish,
Phil snapped back, "Don't ever apologize for making a guy putt." That was a cool move on his part and a good thing for a kid to hear Berger said. He beat me, 1 up, not conceding many putts, if I recall correctly.
AS A SPECTATOR SPORT, the mistake tennis made was the focus the ATP put on the four majors. Wimbledon and the Australian, French and U.S. Opens way overshadowed the regular tournaments. Pro golf has handled its product differently. It emphasizes its majors but has made regular tour events important. Winning a PGA Tour event has the potential to change a player's life, and there are enough really good players to generate interest every week.
AND IT'S ABOUT THE HOURS. Another thing my dad said: Every minute I wasn't practicing, there was a kid in China or South America who was. He believes in the 10,000-hour concept, the idea that really accomplished people totally immerse themselves in their craft. I took that to heart. I wore out clubs and grips. I'd hit balls until I literally was limp and couldn't swing anymore. That's another thing about not watching golf on TV. I was so busy playing, being a fan had no appeal to me.