Billy Mayfair In The Middle Of A Bewildering Rules Fiasco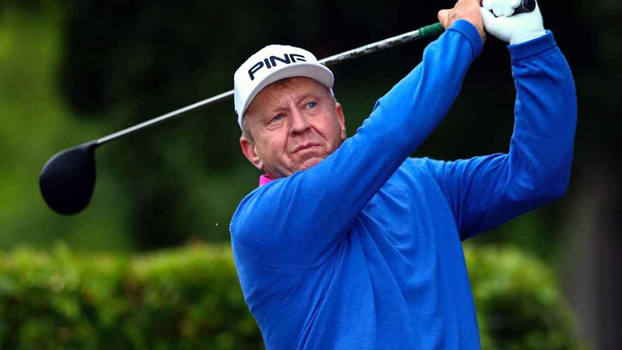 Billy Mayfair is the only golfer to beat Tiger Woods in a playoff (1998 Nissan Open). He also has battled testicular cancer and a costly divorce (he was married at the Four Seasons Resort and Club at Las Colinas).
Mayfair is also ironically whispered nickname is Billy "Playfair" for taking rumored liberties with the golf rules (namely remarking his ball closer to the hole). Which leads us to the latest controversy at last week's Charles Schwab Cup Championship. He had not one but two rules conflicts in one round. Golf.com's Michael Bamberger has the sordid details.
In the space of seven holes, Mayfair had two serious rules issues. By Sunday morning, golf's two harshest consonants were beside his name, by then at the bottom of the full-field list: DQ. There would be no third-week homecoming. Instead, he was consulting with his lawyer.
Mayfair's first rules problem on the afternoon — Saturday, Nov. 2 — came on the 11th hole, where he had a lengthy search for his ball and, later, a seemingly inaccurate recounting of the search to a rules official.
His second rules problem came on the 17th hole, where his ball moved at least six inches in the rough. The issue there was not the ball's movement but how Mayfair described the event to a rules official on the scene, versus what actually happened.
"It's disturbing," said Lanny Wadkins in a phone interview. Wadkins, the World Golf Hall of Fame member who first started playing the PGA Tour in 1971, was at Sherwood as the lead Golf Channel analyst.
Referring to the ball movement on 17, and how Mayfair described it to the official, Wadkins said, "We're like, 'Whoa, wait a minute. That's not what happened.' We hate seeing that. It puts us in a bad position." It also puts golf in a bad light.
It's also another black eye for the PGA Tour who refused to allow video to post of the controversies. For an organization that prides itself on being the cleanest of sports, this smacks of the opposite of transparency. Nice job Ponte Vedra.
Best to read the entire report. But I'm doubting a lawyer will help in this instance.