Brandon Matthews Commits An Amazing Act Of Kindness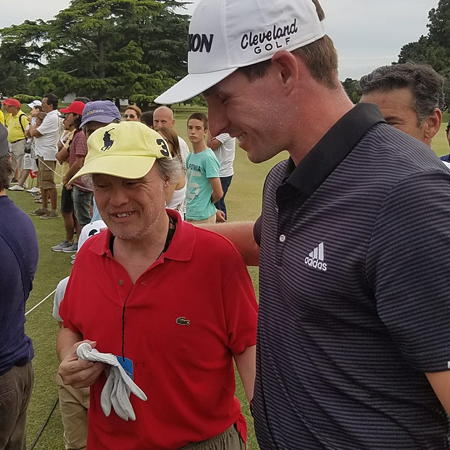 Brandon Matthews was in a playoff to hopefully win the Visa Open de Argentina event last weekend. The winner also earned a coveted Open Championship invite. He needed to sink an 8-footer to extend the playoff to the fourth hole.
Unfortunately, this occurred as reported by GolfChannel's Nick Menta.
"I got over the putt, took the putter back and heard kind of a yelp or a scream," Matthews told GolfChannel.com Monday, fresh off a nine-hour return trip to Tequesta, Florida.
"I kind of flinched on the putt and immediately knew I missed it."
Okay, golfers miss pressure putts every day. But the reason for this one was bit unconventional. 
"I thought someone had done it intentionally. I was frustrated. Really, I was in shock that that just happened," said Matthews, who immediately turned around and gestured to the gallery.
"'Listen, we are so sorry,'" Claudio Rivas, PGA Tour Latinoamérica's tournament administration manager said, per Matthews. "'It's a terrible situation, but here's the deal.'"
Rivas then told Matthews that it was a fan with Down Syndrome who had made the noise in his backstroke. He had gotten excited and lost control of his emotions.
And as soon as Rivas gave him those details, Matthews answered: "Take me to him."
"His switch – his face changed. He almost broke into tears," Rivas told GolfChannel.com after he landed back in Florida on Monday afternoon.
As Matthews grew up, his mother Donna worked to manage group homes and his best friend had a sister who also had Down Syndrome.
"I was around mental disability growing up, and I have a soft spot in my heart for it. Those are really special people," he said. "I felt so terrible that I was even upset. I just wanted to make sure that he didn't feel bad."
"I gave him a hug and I asked him, 'Hey, are you doing OK? Are you having fun?' I just wanted to make sure he was enjoying himself, that he had no hard feelings, that he didn't feel bad about what happened," Matthews said. "I didn't want to anyone to be mad at him. I didn't want him to be mad at himself. I wanted to make sure he knew that I wasn't mad. That's all I wanted to do."
Brandon Matthews 🇺🇸 falló un putt que le habría dado la posibilidad de seguir luchando por el 🏆del #VisaOpenbyMacro . ¿La razón de su fallo? Un señor con Síndrome de Down hizo un sonido involuntario en el momento menos oportuno.
Matthews se acercó e hizo esto#Golf #caballero pic.twitter.com/bcsYErb79u

— PGATOURLA (@PGATOURLA) November 18, 2019
Translated: 
Brandon Matthews 🇺🇸 missed a putt that would have given him the chance to keep fighting for the #VisaOpenbyMacro. The reason for his failure? A man with Down Syndrome made an involuntary sound at the least opportune moment.
Matthews came over and did this # Golf 
"Some things are bigger than golf," he said, "and this was one of them."
Wow. For that reason alone, I'd give Matthews a special invite to the 2020 Open. Seriously.