Bravo! Brooks Koepka As He Calls Out The Tour Sloths On Slow Play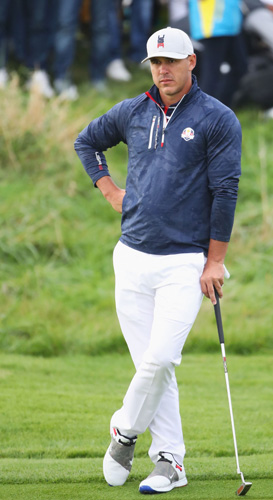 Brooks Koepka has no problem calling people out–for good reasons. Could be how the media tends to snub overlook the three-time major winner at events press conferences.
Lately, he sounded off how he's fed up with Tour slowpokes while wondering why Tour officials rule like an ostrich. GolfDigest's Joel Beall has the details.
Pace of play has increasingly become an issue for the sport's top circuits, and it was in the spotlight again over the weekend thanks to Bryson DeChambeau's deliberate pre-shot preparation at the Omega Dubai Desert Classic.
Speaking on Golf Monthly's podcast to Michael Weston, Koepka was asked about his thoughts on the criticism DeChambeau and other players have received for slow play. The three-time major winner did not sugarcoat his response.
"I just don't understand how it takes a minute and 20 seconds, a minute and 15 to hit a golf ball; it's not that hard," Koepka told Weston. "It's always between two clubs; there's a miss short, there's a miss long. It really drives me nuts especially when it's a long hitter because you know you've got two other guys or at least one guy that's hitting before you so you can do all your calculations; you should have your numbers. Obviously if you're the first guy you might take ten extra seconds, but it doesn't take that long to hit the ball, especially if it's not blowing 30. If it's blowing 30 I understand taking a minute and taking some extra time with some gusts, you know changing just slightly, I get that but if it's a calm day there's no excuse.
Damn straight.
"Guys are already so slow it's kind of embarrassing. I just don't get why you enforce some things and don't enforce others."
I've never understood the Tour's officials cowardly lack of tacking on penalty strokes for slow play. We all see the glacial pace and going to events live is like enduring a downright life sentence without the window dressing of TV editing.
DeChambeau partially blames his lack of experience for his measured approach. He says he's put on the clock "almost every week" but is accustomed to it now. Still, it's not his intention.
"We try and speed up," DeChambeau said. "Trust me, we do our due diligence to speed up and do our best. We're not trying to slow anyone down. I'm not trying to slow anyone down. It's just a part of the process, and unfortunately the Rules of Golf allow for a certain amount of time, and we're (using it) to our fullest potential."
As mentioned on Monday, I'm a big fan of DeChambeau's disruption to golf's stodgy hierarchy. But pick up the pace sir. It really isn't that hard–especially for a rocket scientist like yourself.