Brooks Koepka Cites A New Motivation For U.S. Open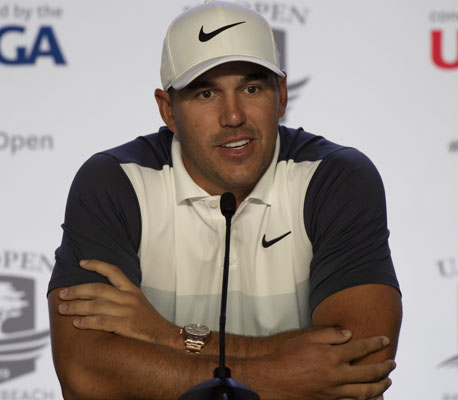 Brooks Koepka certainly has no problem finding new "slighting" media brushbacks to motivate him to great major heights. I'm not here to say he's right or wrong pointing fingers at his various critical enemies to properly kick him in the rear. But at some point, the public complaints will wear off even if Koepka continues to win a remarkable 50% of his major events. It is strange how some celebs possess awesome charisma while others wallow in comparative anonymity.
The latest Brooks' ire is pointed at Fox Sports for omitting him in recent a U.S. Open promo. I can't say Koepka is wrong here, but he was included on three of the four–including one mostly focusing on him.
GolfWeek's Steve DiMeglio has the details.
"There's been a couple of times where it's just mind boggling. It's like, really? Like, how do you forget that?" Koepka said Tuesday at Pebble Beach. "Just kind of shocked. They've had over a year to kind of put it out. So I don't know. Somebody probably got fired over it or should."
"It doesn't make sense to me," Koepka said of some of the slights.
It doesn't make sense to the rest of the field, either, who have paid the price of Koepka's motivational wrath as he's won four of his last eight starts in the game's four biggest events. He is the only player in history to hold back-to-back titles in two majors simultaneously. He also finished second in this year's Masters.
"It's just another golf tournament," he said. "I have to go out and do what I'm supposed to do. And it's going to be a tough test this week, we you all know that.
"The rough is definitely going to be a factor this week. It's very, very thick. Very juicy. You've got to put the ball in the fairways. Not many drivers here. I don't need driver that much, maybe four times this week.
Something tells me Brooks needs a proper enemy to kickstart his game. So far, its worked pretty well thus who are we to judge?