Brooks Koepka Rolls Eyes At Rivalry Talk About Rory McIlroy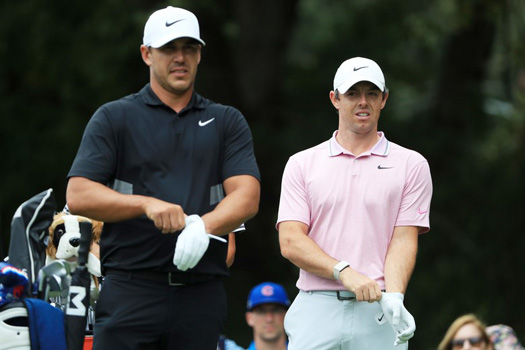 Brooks Koepka is hardly the prototype demure Tour pro–which to me is what makes him a breath of fresh air. He's #1 in the world, a major force and isn't afraid or looking over his shoulder for those chasing his tail.
Koepka's latest volley was directed at Rory McIlroy when asked if there's a rivalry between the two. GolfDigest.com's Alex Myers has the story.
He's using the "rivalry" between him and Rory McIlroy as another piece of bulletin board material. We put "rivalry" in quotes because, according to Koepka, that's what others are calling it. Koepka sees any comparison between the two a lot differently.
"I've been out here for, what, five years. Rory hasn't won a major since I've been on the PGA Tour." So I just don't view it as a rivalry."
"I'm number one in the world. I've got open road in front of me I'm not looking in the rearview mirror, so I don't see it as a rivalry," Koepka said.
"You know if the fans do (call it a rivalry), then that's on them and it could be fun," Koepka said. "Look I love Rory he's a great player and he's fun to watch, but it's just hard to believe there's a rivalry in golf. I just don't see it."
Rory's response: "He (Koepka) talked about trying to be the dominant player in the game … and I thought: 'He's going to have to go through me first'," McIlroy told Carson Daly on his recent GOLFPASS Podcast before adding, "If that's both of our mentalities going forward, I think that's good for the game."
There you go. Golf honestly could use more competitive banter. Next year's majors and Ryder Cup can't arrive soon enough.