Bryson DeChambeau Is Really Good But Takes Too Much Time Playing Really Well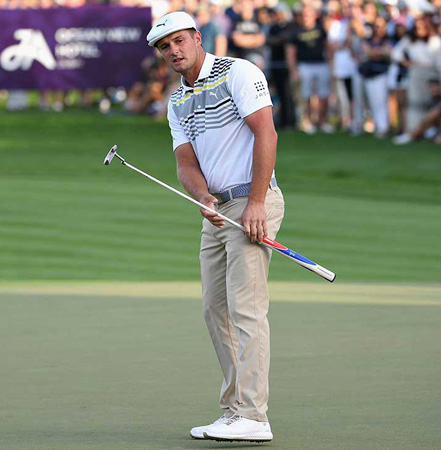 Bryson DeChambeau is on quite a roll. Bryson's win yesterday at the Dubai Desert Classic was his 4th in his last 9 worldwide events.
That folks ranks up towards Tiger Woods' territory.
Incredible run for Bryson atm, 4 wins in 9 starts (so 44.4%)

We all love a 🐯 stat, so for comparison:
Tiger had 5 full years with similar win %s
1999 (39.1%)
2000 (45.5%)
2006 (47.4%)
2007 (41.2%)
2008 (71.4%)

Along with the full 4 years from 06-09 when he won 45.2%.
Crazy 🐯

— Dylan Beirne (@dylan__beirne) January 27, 2019
Yet, all those on-course high level calculus/physics calculations are taking too much time as Golfworld's John Huggan writes.
"Today I was happy with my game. I executed a lot of great shots," he said. "It's a lot of hard work with my caddie, really grinding and trying to figure out how to take account of all the variables out there—air pressure, firmness values, mile-per-hour on the speed, putts and ball speed, spin rates. We're trying to figure out as much as possible so I can be as successful as possible, and obviously it's shown."
Unfortunately, all of the above takes time. Too much time. Perhaps the only discordant note is how long it takes the ponderous DeChambeau to play. Second to putt on the 15th green, one-minute and 45 seconds passed before he hit, more than 60 seconds over the limit dictated by the rules. One hole later, his approach shot consumed one minute and 22 seconds. And even on the final green, he took more than a minute to strike his relatively meaningless putt for birdie.
Touché. If you don't believe it, watch this. For while his scientific mind is impressive, DeSlowbeau definitely needs to hit the edit button on preshot routines. Many times less is more.
An insight into @B_DeChambeau's process 🔬 pic.twitter.com/WfTyzstkDu

— The European Tour (@EuropeanTour) January 27, 2019