Caddie Confidential: Buzz Isn't Positive About New Quail Hollow Setup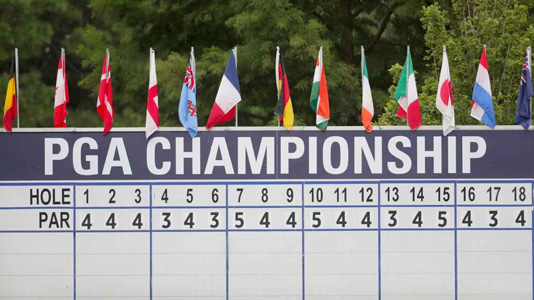 Ex Tour caddie Michael Collins does a nice job with his Caddie Confidential series on ESPN.com. This go 'round, Collins interviews an anonymous looper to get the "real" feedback on the changes to Quail Hollow.
Caddie: I would say most of the guys are not happy with No. 1 or No. 4, to be fair. I would say No. 1 should be played as a par-5. The green was designed to be a par-5 green. No. 4, I think the green is just too penal. It's too severe for the length of shot. I think if it was a shorter shot, you'd actually have a third (tee) box for that to be fair.
Collins: The irony is, I was told by a member that the fourth green was going to be blown up on Monday and redone. What does that tell you?
Caddie: (laughing) Probably not a good design. Not the best.
Collins: What about in terms of length?
Caddie: Oh man, the golf course is probably 500-600 yards longer now. It's significant … we had 230 yards into 18, a back flag (hole location), and had hit a 300-yard drive. (That's) in rain and tough conditions, but still. You're having 230 yards into the last hole I mean sometimes (in the past) we'd consider hitting 3-wood off the tee and hit 7-iron up the hill or something like that. Now you're hitting driver and not even 4-iron to the front edge of the green. It definitely has its teeth.
Collins: Is there a change in the "vibe" here compared to when the Wells Fargo is played here?
Caddie: Honestly, it's just more of the "buzz," more media attention, it's crazy. The driving range is an absolute zoo compared to how it is for the Wells Fargo. It really is. You see more coaches, you see more agents. It's just the dynamic of the importance of this event. It's definitely a lot different, there's no question about that.
Collins: Which hole will be the hardest to caddie?
Caddie: Personally, I think 17, by far. The (par-3) 17th hole plays havoc with the wind, trying to hit the ball the right distance, not trying to carry it too far, obviously bringing the water into play … 17 to me has always been the toughest hole to caddie out at this golf course or even on the PGA Tour. It's a nerve-wracking shot.
Collins: That might be one of the only par-3s that when the ball is in the air no one is talking to it.
Caddie: Time stands still.