Chamblee: 'Tiger Woods Got The Least Out Of His Talent Of Any Player, Maybe In History'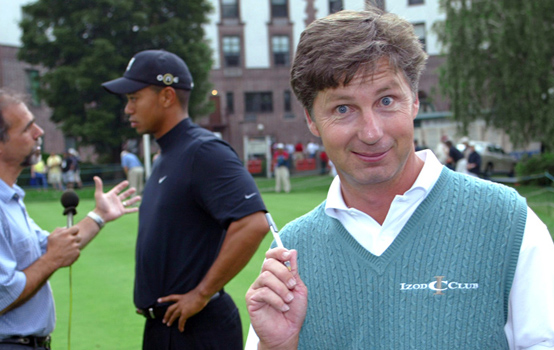 Brandel Chamblee is an analyst I truly respect. Some believe he's golf's version of a shock jock, but Brandel always does his homework before shooting from the lip. Meaning you may not agree with him, but he does make you think–and that's what a good analyst does.
This week, Chamblee went after Tiger Woods again criticizing Eldrick's weight-lifting  on the Dan Patrick Show and that TW has "got the least out of his talent of any player, maybe in history."
Whoa.
If Tiger doesn't lift weights…," Patrick said.
"He would have won 20-plus major championships and 100-plus events," Chamblee said. "He would be hitting the ball right now, probably as long or longer than anybody on the PGA Tour."
"When he started working out – and he still managed to win the Masters, obviously in 2000, 2001, 2005 – but he was averaging along the lines of 290, 280," Chamblee said. "Never sniffed what he was averaging when he was a kid. That sinewy, that quick-snapping speed was what he had and it was a gift."
"He traded all of that speed for strength, and I think it was purely for vanity reasons," he said. "He has an obsession with perfection. Perfect golf swing, he's changed his swing three or four times, cost him two years each time he did it. Changed his body because he was looking for the perfect body – who knows what that's cost him in time and injuries and majors and tournaments."
On Tiger's wasted talent during a Golf Digest podcast.
"I would argue he got the least out of his talent of any player, maybe in history," Chamblee said.
It's a stunning statement considering Woods' 14 (and possibly counting) major titles, but Chamblee puts Tiger's career in the context of what could have been.
"What other player would you have imagined was going to win 30 major championships? Twenty-five, 30 major championships and 100-plus events?" Chamblee goes on. "There's no other player that any of us would ever have imagined — I think he was better than any of us ever imagined. But once he got going, we thought, well . . . he's going to be Genghis Khan to the record books."
On first blush–WOW. But once you think about it, is Chamblee's point that far-fetched?
Did the vain weight lifting put too much muscle and strain on a frame that wasn't built for the added heft?
Were the swing and coaching changes necessary to get to 14 majors or could Woods have stuck with Butch and kept the same swing throughout his career? Perfectionist Woods gets bored easily so keeping the same swing/coach might have dulled his senses and prevented him from the lofty numbers posted.
And, what if social media hadn't taken off during Tiger's career? No athlete as endured more scrutiny than Woods because of social media and immediate public jury.
I'll add that father Earl Woods once correctly predicted that the only things to hold Tiger back from obliterating all golf's records would be "injury or a bad marriage." The combination of both coming to fruition certainly affected (or at least suspended) his son's ultimate legacy–meaning yes, potential wasted opportunity.
Thoughts?