Charles Howell III Finally Receives That Masters Invite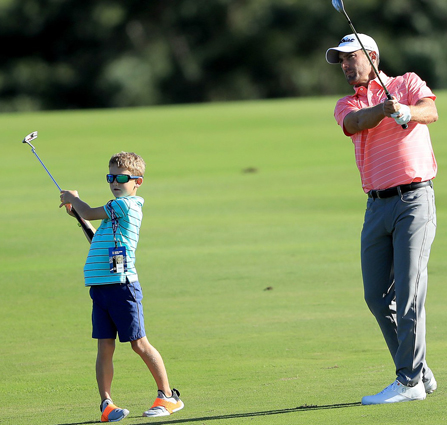 Charles Howell III wasn't sure he'd ever get another Masters invite to his hometown Augusta National. That is until he won the RSM Classic last fall (his first Tour win since 2007–that's 11 years and nine months, a span of 333 starts) to earn the anticipated invite.
Chuckie Three Sticks is universally liked by his peers, works his tail off and while winning only three times in 529 starts, has earned over $37,000,000 in his incredibly consistent career. He was listed as a can't-miss Tour prospect after winning NCAA individual and team titles at OSU before taking the Tour's Rookie of the Year Honors in 2001. Yet that last win in 2007 was wearing on his mind if he'd ever earn another.
And as Brian Wacker writes, Howell wasn't sure he'd ever get another Masters invite–unless this happened.
"For a while it was looking like my best chance to go back was [my son] qualifying for Drive, Chip and Putt," said Howell, whose best finish at Augusta in eight starts has been a T-13 in 2004. "I'm giddy about it because I'm excited to go back there with my perspective now as opposed to before. I'll appreciate being there more, enjoy being there more. I won't let myself get anxious and nervous."
"For a change, when I had a chance to do something I did something good," he said. "There was a time where I thought it maybe wasn't in the cards, that I wasn't going to win again and maybe I'd just have nice career.
"Justin Thomas comes out wins right away, Bryson DeChambeau wins four times in one year; they're all 25 and hit it miles. But to win again is great. It's a good reminder to stay on my game."
We're happy for him. Sometimes good things happen to good people.