DeChambeau Earns Emotional First Tour Win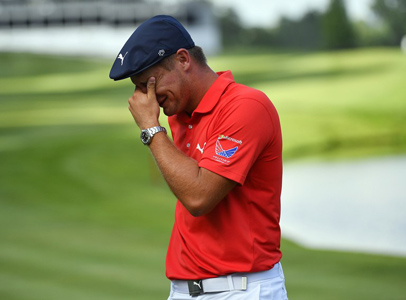 Bryson DeChambeau arrived on the PGA Tour with much public scrutiny after being only the 5th player to take a NCAA and U.S. Amateur championship in the same year (Tiger Woods, Phil Mickelson, Jack Nicklaus and Ryan Moore). His mad scientist approach to golf is both curiously compelling and kind of outrageous for such a conservative sport.
Add in his big signing with Puma, his same-length irons, suffering 8-straight MCs and being showcased in ads without a win and you can understand the pressure he was under to perform up to those lofty expectations.
So, it was with no surprise watching (and enjoying) DeChambeau's raw display of emotional relief when finding out he won the John Deere Classic after leader Patrick Rodgers made a mess of the final two holes.
Pure emotion.

Congratulations to @b_dechambeau on winning the 2017 @JDCLASSIC! pic.twitter.com/kbqpd6qsDq

— PGA TOUR (@PGATOUR) July 16, 2017

DeChambeau's sublime back-nine 30 included a ridiculous shot landing on the green from a tough sidehill downhill lie in the rough from 270-yards out. Now, he's on his way to the British Open. He won in his 40th Tour start.
The win punctuated a comeback of sorts for DeChambeau, who capped a string of eight consecutive missed cuts last month in the U.S. Open — where he was 6 over for two rounds.
"I was able to right the ship about three or four weeks ago, and it's been steady Eddie ever since," DeChambeau said. "It is vindication."
"I think Jordan [Spieth] set the tone for us, and especially after winning the NCAAs and the U.S. Amateur in the same year, I was kind of on a high from that and playing incredible golf," DeChambeau, 23, of Dallas, said, explaining why he thought he would be "killing it" when he turned pro.
"I went into a bit of a lull and was messing around with my golf swing. Unfortunately, it took me off track," he said, admitting that a desire for more distance was putting more space between him and the upper portion of the leader board. "But I realized quickly what I needed to do to get back on track, and I was able to right the ship about 3-4 weeks ago."
From the runner up:
"Our tendency when you have the lead is to kind of hold on and play safe and guard against making mistakes," said Rodgers, who remained winless on the PGA Tour. "But I had guys coming at me with some really low rounds. Obviously, Bryson shot a great one."
DeChambeau becomes the 10th first-time winner on Tour this season.