Denton County Judge Eads Justifies Golf Course Closings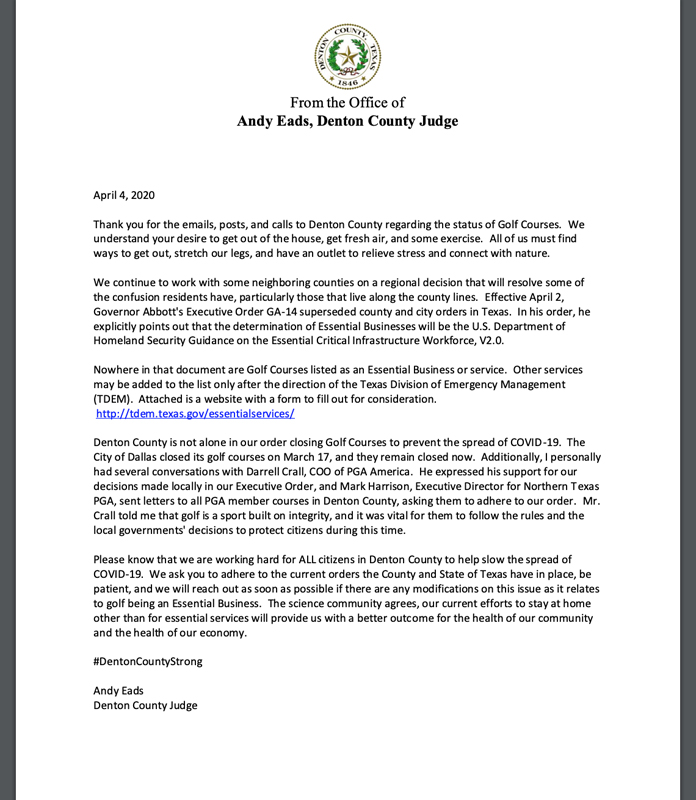 Denton County Judge Andy Eads doubled down on his edict to continue closing his county's golf courses. So far, Denton has joined Dallas (mostly) and Collin County in morphing courses into ghost parks. Currently, all courses in Tarrant County remain open (except for Grapevine GC and Iron Horse GC (being renovated)–although Tarrant County course GMs still brace daily for a shutdown ruling.
For those not on Facebook, here is a link to the letter I have written as it pertains to Golf Courses: https://t.co/DGyH87FP4G pic.twitter.com/2TGC5hF1xP

— Andy Eads (@Andy_Eads) April 4, 2020
Look, I get it. Why give the impression you're allowing certain businesses to remain open while others are closed? It helps if the ruling county officials like to golf. Maybe it's just a coincidence that Tarrant County mayor Betsy Price is an avid golfer. Or not. We all rationalize explaining our actions.
Yet, there's a disconnect. I believe its riskier grocery shopping (try staying six feet away from another in a store aisle) than playing golf. Current guidelines of not sharing carts (unless you live with the partner), walking more, taking out flagsticks, water coolers and paying on line sounds reasonable enough. And, from what I understand, most golfers are adhering to the rules.
The Star-Telegrams' Drew Davison says golfers are understandably flocking to Tarrant County courses in droves.
"I'm glad we're able to offer this recreational opportunity as long as we can allow it," said Dave Lewis, Fort Worth's assistant director of golf and athletics.
"But golfers must adhere to social distancing rules. If not, we'll ask them to leave. If it becomes a big problem and issue, we'll just shut down," he said. "We've talked to people about this not being your normal round. You're not going to set the course record."
Most golfers had no issues with the changes or regulations. Instead, they're just happy to be able to play a round and get out of the house for a few hours.
But, are golf courses any worse than community parks where we're still allowed to walk or ride bikes? I see enough folks not respecting the six-foot rule there. Guess it depends if you like golf or not. Plus, golfers are going to travel to those courses still open making tee times problematic. Course GMs say the traffic hasn't been this high since the roaring 80's.
Maybe its because city parks are free and golf is not? Wish I knew.
Being in the golf biz, we are constantly monitor and support the health of our golf courses. Prudent thinking and common sense are vital during these times. Yet, these mixed messages from neighboring counties also make it more confusing than ever.