How Eddie Pepperell Is Dealing With Money And Self-Doubt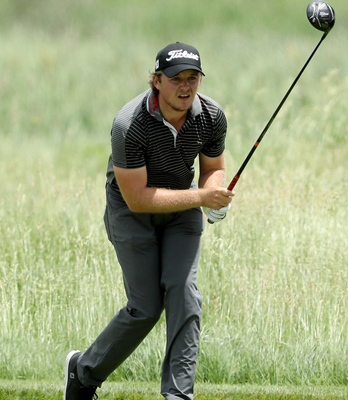 Eddie Pepperell is one of golf's free spirits and refreshingly honest players. The Euro Tour player recently played the Open Championship's final round surprisingly well with a self-admitted major hangover. His Twitter feeds are a good read as is his blog. Pepperell's latest post includes dealing with writer's block, self-doubt, money and agreeing to undergo therapy manage life's various challenges.
I've spent two weeks doing many things; eating, walking the dog, thinking, drafting blogs etc.. I really haven't been sure what to write about, not because there aren't things I want to say and messages I want to convey, but because those thoughts I've been having have been conflicting in a way. Dare I say it, my recent success has almost caused a sense of affliction, which in itself, is slightly depressing.
I wandered up the hill towards Thornton's, my mouth watering at the thought of demolishing a pack of Viennese truffles. Along the way though, I seemingly witnessed every man, woman and child, who while all appeared happy enough, clearly weren't as privileged as me. Therein lies my first affliction; "but I've earned this privilege." At this point I'm the recent beneficiary of being pretty good at something, though not sensational, but critically, now very wealthy. After all, only a few days ago over £500,000 was transferred into my bank account. Let's go spend some money on coffee and fine chocolate. "At this point last year, I was probably writing a blog about Ryan Fox earning shit loads of cash and having the potential to buy a yacht, what is this system?" The irony. So I collect the chocolates, three packets for £9.50. Not cheap I know, but these aren't your average chocolates. "There's £10, keep the change, thanks." The least I can do.
When it comes to money, I hope I have enough curiosity to stop it consuming me, and confusing me even more–Pepperell.
Fast forward a few months to the Monday of the French Open, and after another poor nights sleep due to a very un-British summer, the thought of travelling to France all of a sudden felt overwhelming. There wasn't an ounce of me that felt ready to go and compete. I don't like terms, but I was concerned I was depressed, or certainly experiencing an episode. So I withdrew right there and then without telling anyone. It took me an hour or so to tell Jen. I didn't find telling her very easy. I lied to everyone else. I find lying generally despicable and soul destroying.
Here's what's crazy about being a golfer, and a human being I presume, is that days after feeling such emotions and having darker than ideal thoughts, you can go and achieve something really great. It's totally f—–g messed up.